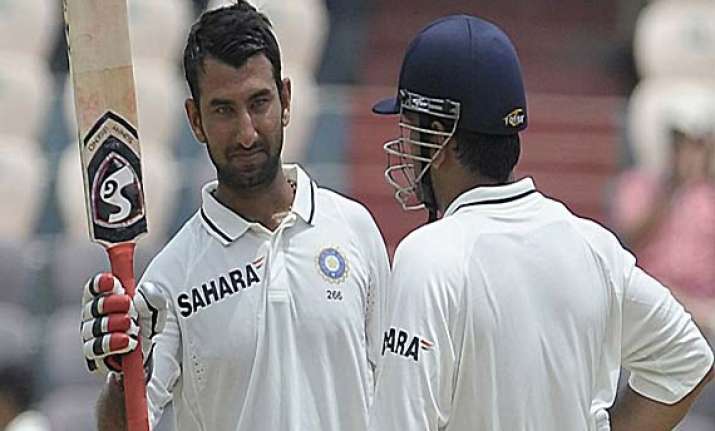 Mumbai, Nov 23: R Ashwin's support was crucial in young batsman Cheteshwar Pujara scoring a century today and the India spinner says it would have been a "shame" had his colleague missed out on a hundred today.
Pujara was going strong while other top-order batsmen struggled but the young batsman found an able ally in Ashwin, who supported him well with a magnificent 60.
Ashwin had joined Pujara when six top Indian batsmen were cooling their heels back in the pavilion and stayed with him till the end of the play.
Ashwin lauded Pujara's technical efficiency and his controlled knock.
"I thought it was a brilliant knock. The amount of time he trusted his defense and kept on defending was brilliant. He eased the nerves as he batted on, defending beautifully. I thought it was a very well paced knock and it would have been a shame if he had not got a hundred," said Ashwin after the first day's play.
Pujara, who came into the second Test with an unbeaten double hundred (206) and 41 not out in the first Test, ended the day with an unbeaten knock of 114.
The 25-year-old's knock rescued India from deep trouble as India were struggling at 119 for 5 at one stage and ended the day at a more comfortable 266 for 6.
Pujara and Ashwin (60) shared a partnership of 97 for the unfinished seventh wicket.
Ashwin said Pujara's run-appetite was phenomenal.
"He has great temperament, he is in great form and he keeps on grinding the runs and even in domestic cricket he does not get small hundreds, he gets big ones," said Ashwin, adding they knew each other from teenage.
"We have played together since 16-17 years old. We have been at the national cricket academy and all that," he said.