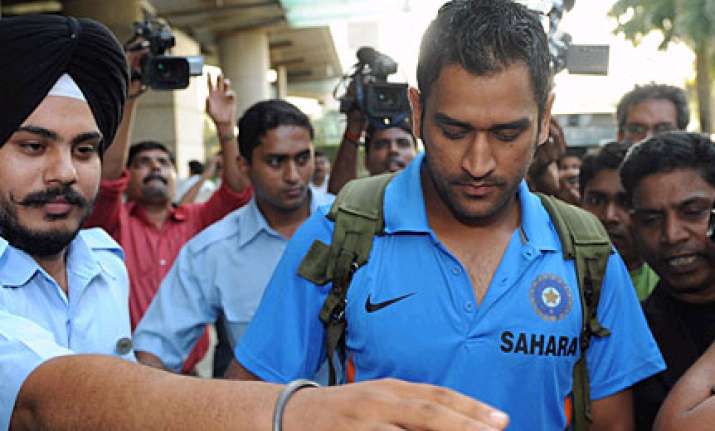 India Seek Quick Acclimatisation In Only Warm-Up Game  will look to get acclimatised to conditions and test the fitness of key players in their only warm-up game, against New Zealand, on Sunday ahead of the Champions Trophy.  
Mahendra Singh Dhonis men will be up against a team which was blown away by both Sri Lanka and India in the Compaq Cup and did no better against a local side, Warriors, in the first warm-up game here yesterday.  
The Kiwis are only ahead of England, West Indies and Bangladesh in the ICC rankings which just about sums up their floundering fortunes in one-day cricket.  
The pitch at the Potch Drop Club, venue for tomorrows warm-up, produced a score of 345 by a cobbled-up West Indies in an earlier warm-up match.
The Indians will have little to do than practice for first five days of next week before meeting Pakistan in their opening day-night engagement at Centurion on September 26 -- a match which could very well decide who moves up to the semi-finals of the Champions Trophy.  
India could feel under-cooked for the big match, more so since Pakistan would have already played a game -- against the West Indies at the Wanderers on September 23.  
Tomorrows match would thus be the case of making the most of whatever little opportunities Indians have ahead.   
Indians would surely look to put Gautam Gambhir,
Suresh Raina
, Yuvraj Singh and Yusuf Pathan in the middle tomorrow for as long as possible.  
The match is a season opener for Gambhir, who missed the tri-series in Sri Lanka because of a groin injury, while the other three have still not yet become very comfortable with short-pitched bowling.  
Even without Shane Bond, who didnt play in New Zealands first warm-up game, the trio of Ian Butler, Kyle Mills and Daryll Tuffey are handy.  
The task for Indian bowlers and fielders is cut-out too.  
RP Singh and Ashish Nehra shouldnt have much problem in hitting the right length with the new ball. But
Ishant Sharma
needs to settle a few doubts.  
As for fielding, coach Robin Singh hasnt quite covered himself in glory as Venkatesh Prasad has done with bowlers.  
The Teams from:  
India: Mahendra Singh Dhoni capt, Yuvraj Singh, Sachin Tendulkar, Rahul Dravid, Gautam Gambhir, Harbhajan Singh,
Dinesh Karthik
, Praveen Kumar, Amit Mishra, Abhishek Nayar, Ashish Nehra, Yusuf Pathan, Suresh Raina, Ishant Sharma, RP Singh.  
New Zealand: Daniel Vettori capt, Shane Bond, Neil Broom, Ian Butler, Brendon Diamanti, Grant Elliott,
Martin Guptill
, Gareth Hopkins, Brendon McCullum, Kyle Mills, Jacob Oram, Jeetan Patel, Jesse Ryder,
Ross Taylor
, Daryl Tuffey.  
Match starts at 6 pm IST. PTI