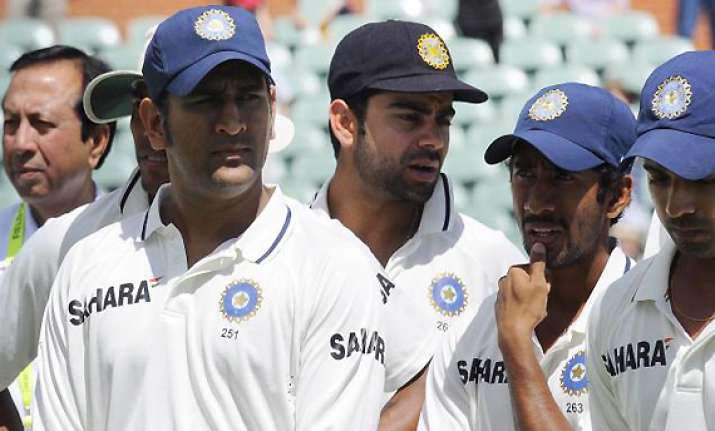 Dubai, Mar 30: Whitewashed in two consecutive Test series, India are all set to lose a spot and slip to number fourth position in the ICC Test Championship table.
With Australia eyeing a series win against the West Indies during the three Tests, starting in Bridgetown on April 7, India's current position is under threat.
While a series win will put Australia ahead of India in third position, a 3-0 series win will put Australia on equal points with England on 113 ratings points (if England lose 2-0 to Sri Lanka).
And when the ratings are calculated beyond the decimal point, then Australia will be placed above England in second position as it will have a rating of 113.10 against England's rating of 113.045.
England, meanwhile, find themselves in a must-win situation in the Colombo Test if they have to retain the number one position.
England's victory will keep them ahead of South Africa by a fraction of a point but their failure to win the Test will make South Africa as the new ranked side.
If England lose the series 2-0, they will drop from 118 ratings points to 113 ratings points - three points behind South Africa - while a 1-0 defeat will mean they will slip to 114 ratings points.
Meanwhile, South Africa's AB de Villiers has reached the numero uno batting position for the first time in his career where he has been joined by Australia captain Michael Clarke in the rankings.
In ICC Player Rankings for Test bowlers, South African Vernon Philander is continuing his climb up the chart. The fast bowler had figures of four for 70 and six for 44 in Hamilton and six for 81 and none for 29 in Wellington.
Philander has gained 148 ratings points, which has not only given him a career-best rating of 764 but also led to a jump of 11 places that puts him in a career-best fifth position.
In Test all-rounders' list, Bangladesh's
Shakib Al Hasan
is in the No. 1 spot.