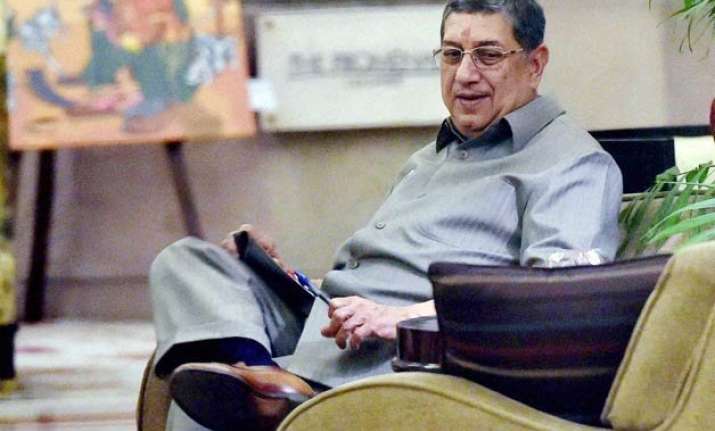 Kolkata: High drama was today witnessed in the BCCI's crucial Working Committee meeting over the presence of N Srinivasan, prompting the President Jagmohan Dalmiya to adjourn the meeting sine die over lack of legal clarity on the sidelined former chief's status.
"The Board of Control for Cricket in India (BCCI) Working Committee meeting was adjourned sine die after deciding to seek the opinion of the Hon'ble Supreme Court whether Mr. N.
Srinivasan could attend the meetings of the BCCI as the authorised representative of Tamil Nadu Cricket Association," BCCI Secretary Anurag Thakur said in a brief statement.
The working committee was to discuss the report of the four-member working group on the roadmap for conducting the IPL in the wake of the two-year suspension of two franchises -- Chennai Super Kings and Rajasthan Royals -- by the Supreme Court-appointed Justice RM Lodha committee.
The meeting was postponed as the members argued over the presence of Srinivasan, who was earlier barred by the Supreme Court from contesting the BCCI President's post following the IPL spot-fixing scandal.
In his defence, Srinivasan, who attended the meeting as President of the Tamil Nadu Cricket Association, placed Justice Sri Krishna's opinion which said he was entitled to attend the meeting, an official who attended the meeting said.
But some BCCI members countered that argument and claimed that the Supreme Court had made it clear that he should stay away from BCCI meetings.
"Since there was no clarity on the legal status of Mr Srinivsan, President adjourned the meeting after the BCCI legal adviser Ushanath Banerjee also said that he was not sure about Srinivasan's legal standing as of now," the official said.
The official said that Srinivasan was specifically told not to attend the meeting and among those who tried to dissuade him were IPL chairman Rajeev Shukla and BCCI Treasurer Anirudh Chaudhary.
However, the Chennai strongman did not give in and attended the meeting.
Srinivasan tried explaining his stance to the BCCI members by insisting that there was no conflict of interest in his position as an administrator and as owner of Indian Cements -- the company which owned CSK.