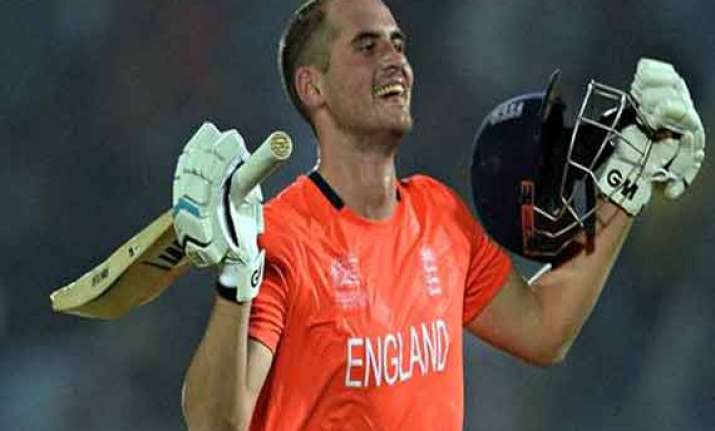 New Delhi: Its confirmed now. Alex Hales will have his first chance on Monday to provide the spark at the top of the order which has so often been lacking in England's one-day cricket.
Alastair Cook confirmed on Sunday that Hales will open with him against India at Bristol at the start of England's intensive spell of limited-overs cricket which will culminate with the World Cup in Australia and New Zealand in February.
It means Ian Bell, Cook's most recent partner in a largely orthodox opening combination, drops down to three to allow Hales the opportunity to show he can extend his explosive Twenty20 game to the longer format.
'Alex is a different batter to the other guys,' said Cook of an opener who will have licence to attack from the off.
'He hits the ball incredibly hard in different areas but with an orthodox technique. He's done really well in Twenty20 and now he can show us what he can do in 50-over cricket.'
The presence of Hales should allow Cook or Bell to play the anchor role but the captain insisted yesterday his approach will remain unchanged as he tries to extend his recovery with the bat in the Test arena.
'I don't think it changes what I do,' said Cook. 'The job of anyone in the top four or five is to score a hundred and set up the game. You have to try to do that in your own way.
'My confidence is at a better level to what it was three weeks ago. You only really get confidence from winning games.'
While the selection of Hales, who has hit four centuries for Notts this season and one for the Lions, was a formality, England have resisted any temptation to make more changes to what can seem a staid approach.
That means James Vince, James Taylor and Jason Roy must wait, while the bulk of the side who won the last three Tests against India have the chance to inflict further misery on the 50-over world champions.
The decision to stage back-to-back Ashes, so costly last winter, was made to give England a better chance of breaking their perennial duck in longer global tournaments, which so nearly ended in last year's Champions Trophy.