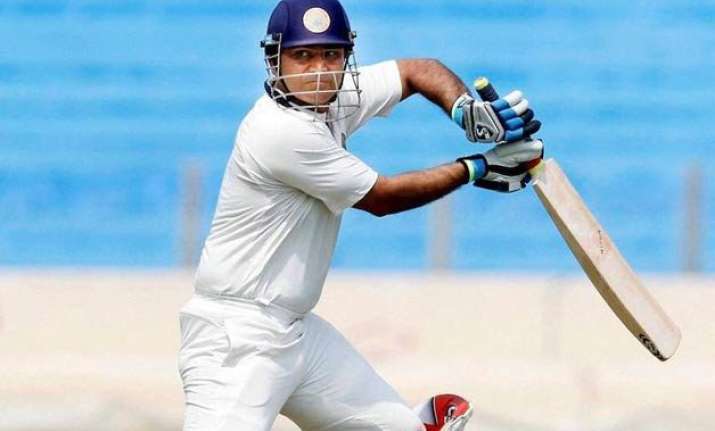 New Delhi: Virender Sehwag, one of the world's most destructive batsmen to have played the game, today drew curtains on his illustrious international career that lasted for almost a decade and a half.
Over the years, Sehwag had been called many names and been given many titles which suited his merciless batting style.
Some of his most notable fans were the bowlers who had faced wrath of his bat but could not stop appreciating his destructive technique
Also Read: Confirmed! Virender Sehwag retires from international cricket, IPL
Here are some of the quotes by greatest of cricketers attributed to Sehwag's batting:
1- "If you try to hit a six, I will hit you on the bum." -Sachin Tendulkar warned Virender Sehwag when he was on 295 at Multan against Pakistan. Sehwag hit a six to reach first triple century by an Indian.
2- "Having scored 298 and still hitting a six is something unimaginable and you need to be a genius for that" - Waqar Younis.
​3- "I have to learn from Sehwag how to play in the nervous 90s" - Sachin Tendulkar.
4- ​"The bowler might be good but when Sehwag thinks he wants to hit, God forbid anyone standing in the way"  -Laxman Sivaramakrishnan.
5- "No matter how good and experienced you are, he can kill your attitude" - Brett Lee.
6- "Sehwag is a miracle, Sehwag is an institution" - Navjot Singh Sidhu.
​7- "A batsman like Sehwag is never out of form" - Michael Hussey.
8- "No one can maximise the first 10 overs better than Sehwag" - Rahul Dravid.
9- "Will go miles to see Sehwag bat" - Sourav Ganguly and Arun Lal during commentary.
10- "I would always have Sehwag in my team. I want to watch him bat but not bowl to him" - Shane Warne.
11- "Players like Sehwag bring crowd back to Test cricket" - Kapil Dev.