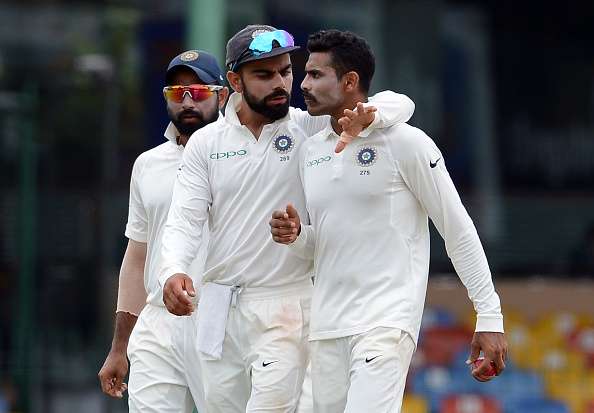 India captain Virat Kohli today heaped praised on Ravindra Jadeja for his all-round abilities and said the Saurashtra cricketer is "precious" and brings "great balance" to the side, especially in Test matches. 
Jadeja scored an unbeaten 70 off 85 balls in the first innings and then grabbed five wickets in Sri Lanka's second innings to help India beat the hosts by an innings and 53 runs and seal the three-match series. 
His efforts also earned him the play-of-the-match award. 
"Guys who have both abilities are very rare to find. That's where we think they're very precious, especially in the longer format because they provide you with great balance," Kohli said referring to Jadeja. 
"Jadeja can give you a very quick 60-70 anywhere at any stage of the game, it can really turn the game. Remember Lord's, remember Dharamsala against Australia, those are very important innings, the 90 against England in Mohali." 
Kohli said Jadeja brings great value to the side in all departments of the game. 
"He (Jadeja) has the ability, he believes in it and he's worked extra hard in the last 10-12 months on his batting also. He's bowled so much that the other discipline was left behind, but now he's catching up in that as well. It's only going to do good to him," the skipper said. 
"If he doesn't bowl well on a particular day, he can score runs. Once he scores runs, then he gets confidence with the ball also. He's always in the game, his fielding as well. I would say he's a very valuable cricketer for us," he added. 
However, India will badly miss Jadeja's services in the third and final Test starting Saturday in Pallekele, after the ICC slapped the all-rounder with a one-match ban and a fine for dangerous play. 
Jadeja was found guilty of dangerous play after he threw the ball at opener Dimuth Karunaratne off his own bowling when the batsman was inside the crease. 
The ball narrowly missed him in a manner which the on- field umpires determined as "dangerous", the ICC said in a release.