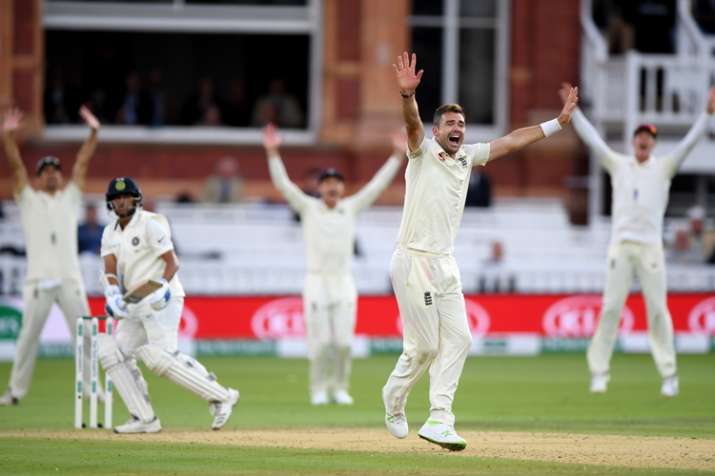 India vs England, 2nd Test, Day 2: Stumps! IND 107-all-out vs ENG at Lord's
Live Score - IND 107 vs ENG:
​Put into bat under overcast conditions, the frailties of a wobbly top order was there for everyone to see as veteran Jimmy Anderson (5/20) made them hop, skip and jump on a track with his 26th five-wicket haul in longest form. He was ably complemented by Chris Woakes (2/19), Sam Curran (1/26) and Stuart Broad (1/37). Take a look at the match highlights of Day 2 of the 2nd Test at Lord's. 
(LIVE COMMENTARY |
FULL SCORECARD)
(Click Here to Get Cricket Score Live Updates in Hindi)
HIGHLIGHTS, INDIA VS ENGLAND, 2ND TEST, DAY 2 FROM LORD'S
23.51 IST: So, after more stops than starts on this rain-marred Day 2 of the Lord's Test, we've had a lot of action towards the final leg of the day. India's batting frailties came to the fore once more and were exposed, rather embarrassingly, as they were bowled out for just a mere 107. The ball was doing a lot, but you'd expect more from the no.1 ranked Test team in the world. If Ravichandran Ashwin is your highest-scorer with 29, there are some serious questions which need to be asked.
23.50 IST: OUT! Ishant Sharma lbw b Anderson. All over. India succumb to 107 all out. James Anderson takes five. A humiliating day for India as they are set to concede a big first innings lead unless they bowl really well.
23.48 IST: FOUR! Shami with another wild swing and Shami with another vital boundary. Full on the stumps, Shami clears his front leg again and swings with all his might. A top edge and it goes over the slip cordon again for back-to-back boundaries.
23.47 IST: FOUR! 
23.44 IST: OUT! There was bat involved, but it came after it went off the pad. Ashwin is a dead duck. Full, fast and swinging back in from around off, Ashwin looks to drive this away but is caught on the front pad. Loud appeal, the finger goes up and instantly the batsman takes the review, probably as he thinks the inside edge will save him. The TV umpire comes into play and replays show that the ball goes off the pad first, and then the bat. So India highest-scorer in this innings is gone. IND 96/9 in 34.2 overs vs England at Lord's.
23.38 IST: Ishant Sharma walks in to face the music.
23.37 IST: OUT! James Anderson removes Kuldeep Yadav for 0. IND 96/8 in 33.5 overs vs England at Lord's
23.31 IST: FOUR! A shot executed with complete control. Terrific. Short ball on off, Ashwin stands tall and pulls it right off the meat. Doesn't bother to keep it down, there's nobody there. Gets it through the gap in the mid-wicket region and earns another boundary. IND 94/7 in 32.3 overs against England at Lord's.
23.29 IST: FOUR! Some width offered and Ashwin puts this away. He's no amateur, make no mistake. Man has four Test hundreds. Length delivery outside off, he rocks back and firmly punches it through the covers for a boundary. Also, he becomes the highest boundary getter for the Indian side in this innings. IND 90/7 in 32.1 overs against England at Lord's.
23.25 IST: James Anderson to Kuldeep Yadav, Good length delivery in line of the stumps, Kuldeep pushes it back down the track.
23.20 IST: Kuldeep walks out to face Anderson.
23.17 IST: OUT! James Anderson removes Ajinkya Rahane for 18. Jimmy does what Jimmy does best. Was brought on to get a wicket and a wicket he does get. Superb. Conditions are somewhat overcast, so he gets swing. Enough of it at least. Lands it fuller outside off, Rahane prods forward to defend but gets an edge due to the slight away movement. Behind to Alastair Cook at first slip who collects it in his palms. Needless to say, India in serious peril in London. India have lost their seventh wicket. IND 84/7 in 29.4 overs vs England at Lord's
23.15 IST: Ajinkya Rahane still there. Anderson back into the attack. Here we go.
23.11 IST: FOUR! All important runs here for India. Ashwin gets the rare bit of width and is also a bit on the shorter side. He rocks back and punches it through to the cover point boundary. IND 84/6 in 28.2 overs vs England at Lord's.
22.58 IST: FOUR! Uppish through the covers as Ashwin gets attacking. Goes for the expansive drive through covers against this moving ball. Gets enough bat though to beat the chasing covers fielder and runs across the boundary. IND 73/6 in 25.4 overs.
22.54 IST: FOUR! Full and swinging down, easy peasy for Rahane to flick it fine down the leg side. No chance for fine-leg to stop that one. IND 69/6 in 24.4 overs vs England at Lord's.
22.53 IST: R Ashwin is the new man in. Five slips waiting.
22.51 IST: OUT!  From no movement to so much in the space of a few minutes. First Woakes, now Curran. Perfect left-armer's delivery to a right-hander. Fires it full and swings it back in. Karthik loosely drives away from his body and gets an inside edge. Back onto the stumps and they are shattered. He walks back and takes that calm head of his back to the pavilion with him. Curran jumps and celebrates with a fist pump. Curran clean bowls DK for just 1. IND 62/6 in 24.2 overs against England.
22.48 IST: Dinesh Karthik is the new batsman in. The ball is hooping around all over the place. Testing times for the Indians.
22.47 IST: OUT! Gone this time! That dropped chance hasn't cost England anything. Buttler first dropped Kohli and caught Kohli on the next ball, same here with Hardik. Length ball on middle and off, straightening up after angling in, Pandya hangs his bat to defend and it goes off the edge. Straight to Jos at second slip who gets low and takes it this time. India in deep trouble here.Chris Woakes removes Hardik Pandya for 11. IND 61/5 in 23.3 overs vs England at Lord's
22.45 IST: FOUR! Woakes clearly and rightfully agitated at that. He makes it known. Full and swinging away heavily outside off, Pandya plays away from his body and gets a thick edge. Flies to Buttler at second slip who moves to his right and completely makes a mess of it. Right through his palms and that's a boundary to third man. That's dropped by Buttler!
22.42 IST: FOUR! Oh good lord! Almost went through the gate. Deary me. Full and swinging in from Curran, Hardik doesn't pick this up at all as comes forward for the elegant drive through the covers. It takes the inside edge and goes past the leg stump for a boundary. IND 54/4 in 22.3 overs.
22.41 IST: Fifty up for India!
22.39 IST: Hardik Pandya is the new man in. Woakes to continue.
22.35 IST: OUT! Chris Woakes removes Virat Kohli for 24. His luck finally runs out! This is a big wicket for Woakes and England. Woakes comes from wide of the crease and angles in a full ball on off, it swings away late as Kohli looks to flick it away on the leg side. That becomes his undoing as the ball goes off the edge and flies behind towards Jos Buttler at second slip who makes no mistake when moving to his right. Kohli will be feeling that, more especially since he got Pujara run out earlier. Not good for India. Not at all. IND 49/4 in 21.3 overs vs England at Lord's
22.34 IST: FOUR! Living the risky life here. This has somehow gone through everyone. Kohli a bit undecided on this one? Length delivery outside off, the skipper tries leaving this late as the ball goes off the outer part. Through first and second slip and away to the boundary line. IND 49/3 after 21.3 overs.
22.31 IST: Sam Curran to Ajinkya Rahane, Full and swinging in on off stump, Rahane with a big stride forward meets the ball with the full face of the bat and drives it through mid off. Three good runs result. IND 44/3 after 21 overs.
22.29 IST: Sam Curran into the attack now. This should be interesting!
22.26 IST: Chris Woakes to Virat Kohli, Edged behind but he's played that with soft hands. Well played. Some extra bounce on off, going away, Kohli dabs it behind in front of second slip. IND 39/3 after 20 overs.
22.22 IST: Pitched on a length outside off, it moves away, no reason for Kohli to have anything to do with it.
22.15 IST: Chris Woakes is brought in to the attack
22.14 IST: Beaten! Length delivery just outside off, the ball holds its shape as Kohli hangs his bat out to dry. Just past the outside edge and into the keeper's gloves.
22.12 IST: Some away swing for Anderson, well played by Kohli too as he comes forward and opens the face slightly to drive this square on the off side. A couple of runs taken.
22.10 IST: Maiden over by Broad. Rahane leaves most of them out, but good decisions.
22.06 IST: Maiden over for Anderson. Nearly had Kohli a few times. A simple touch could have seen him on his way back. IND 34/3 in 15 overs
22.00 IST: Stuart Broad to Ajinkya Rahane, Off the pads, so the muted appeal has no value here. Rahane, much like his captain, isn't showing the bowlers much of the stumps. Walks across again as the ball is seaming down, tries flicking it but it brushes his pads. Bairstow does well behind to dive low to his left and stop it from going past him. IND 34/3 after 14 overs.
21.53 IST: In the air and dropped! Rahane gets a life in the slips. Should have been taken. Ollie Pope, the debutant, the culprit here. Slight movement away from a full length outside off, Rahane is forward to drive but the ball takes a thick edge. It flies towards Pope at fourth slip who sticks his right hand out to take it but instead spills it. This one to prove costly?
21.50 IST: FOUR! Too full from Broad. Wide outside off. Rahane has no problem to lean into this and drive it sweetly through the cover region for a boundary. Good timing on that one.  IND 28/3 after 11.4 overs.
21.45 IST: FOUR! James Anderson to Virat Kohli. Shot. Overpitched but you'd rather be full than short. Maybe should just drag it back ever so slightly. Kohli on this occasion leans into the drive and caresses it past the cover fielder, leaving him no chance to stop it with the chase. IND 20/3 after 10.1 overs.
21.43 IST: Stuart Broad to continue from the other end. IND 16/3 after 10 overs against England at Lord's.
21.40 IST: Ajinkya Rahane plays out the remaining three balls of James Anderson's over. IND 15/3 after 9 overs against England at Lord's.
Incredible drainage here at Lord's! The sun is out and we are back underway!

Scorecard/Clips: https://t.co/tWoCKUQMUr#ENGvIND pic.twitter.com/ZhndnAS1JK

— England Cricket (@englandcricket) August 10, 2018
21.38 IST: Right then, the players and the umpires walk out to the middle. The sun is basking in all its glory at the Lord's, the brightest period it has been this day so far. Play can be extended up to 00.00 IST. James Anderson steams in to complete his over. Here we go...
21.32 IST: There we go again! We are being promised of a 21.40 IST resumption.
21.20 IST: Former India captain Sunil Gavaskar has this to say on Virat Kohli's newfound mantra for success in England.
21.00 IST: The word is that there will be an inspection at 21.30 IST. Now, everything will come down to that. If any play is to be had, then it has to decided then itself. Otherwise, it's safe to assume that play will be called off.
🌥 Some sun has emerged which has caught the attention of the away dressing room!

There is an inspection at 5pm 🤞#ENGvIND#LoveLords pic.twitter.com/LC9rmkRjL4

— Lord's Cricket Ground 🏏 (@HomeOfCricket) August 10, 2018
20.48 IST: It has stopped raining at Lord's. Super-soppers are at work. Stay tuned.
20.25 IST: It's Tea time. It's absolute pelting down at the moment with the outfield taking a lot of beating. Good decision to call it early, as if just in case the rain decides to let up, play can be started ASAP. We'll keep you updated as and when we hear more. IND 15/3 after 8.3 overs vs England at Lord's.
20.15 IST: Read what Sakshi Dhoni had to say about her husband's love for bikes.
Lords gaya paani mai @SGanguly99 @virendersehwag pic.twitter.com/GHH3mkC4rt

— Samip Rajguru (@samiprajguru) August 10, 2018
20.07 IST: It's raining very heavily now. The chances of play resuming are nosediving with every passing minute. Here is a sneak peeek:
Absolutely lashing it down at Lord's! https://t.co/huba3zLzoQ#ENGvIND pic.twitter.com/6W3zRHKi8B

— England Cricket (@englandcricket) August 10, 2018
20.00 IST: Well, here's something new! Play was about to begin, after all the clearing and maintenance work was done, the heavens opened up again and it's pouring down once more. We're as disappointed as you are, if not more.
19.50 IST: Play will resume at 20.00 IST, provided there is no more rain of course. Tea will be taken at 21.50 IST. There are, however, dark clouds moving towards the stadium. So, you know what to do...
19.47 IST: While we await the word from the inspection, here is how Arjun Tendulkar turned groundsman for the Lord's Test.
19.13 IST: Bright sunshine and clear skies once again as covers start to come off. The umpires are set to assess the conditions at 19.30 IST. Let's see how that goes.
19.00 IST: As long as we are waiting for the match to start, here is how the infamous Sreesanth is getting ready for a comeback.
18.45 IST: Indian icon Sachin Tendulkar, who was supposed to ring the bell at Lord's, couldn't make it. Read why.
18.26 IST: So the rain gods offered one more ball before they came down hard but that's all England needed. They have another wicket under their belt, and even though Anderson didn't pick the wicket himself, it did come in his over. Pujara got run out and India are three down now. It is raining down quite heavily, got quite dark too. But there is some hope that once this cloud passes, things should be much clear again. Fingers crossed. Stay tuned for updates.
When you're told dinner's on the table...https://t.co/QaHxVc4jQO#ENGvIND pic.twitter.com/7bXzZPhlU9

— England Cricket (@englandcricket) August 10, 2018
18.20 IST: OUT! PUJARA IS RUN OUT! Last ball before play has to be suspended and Cheteshwar Pujara is dismsised. A huge mix-up has left him stranded in no man's land. Unbelievable. Pujara taps this length ball down in front of point and both batsmen take off. Suddenly in between, Virat Kohli decides to bail out seeing debutant Ollie Pope rush to the ball. Kohli gets back inside the crease, leaving Che hanging and Pope has all the time in the world to take the bails off. Ravi Shastri is seen with an unimpressed look on his face. Terrible stuff. IND 15/3 after 8.3 overs against England at Lord's.
18.15 IST: Uh-oh! A big black cloud is seen hovering over the stadium now.
18.12 IST: Stuart Broad to Virat Kohli, Back of a length on the hips, Kohli looks to tickle it fine down the leg side. Does so, but off the thigh pad. A couple of leg byes result. IND 13/2 after 7.2 overs.
18.08 IST: Wow. Tell me I am not dreaming. Pinch me. Slap me. It is bright and sunny. Correction. It is bright, sunny and overcast at the same time. Nature never ceases to amaze. The players are back out in the middle and the King Of Swing is ready...
17.55 IST: Here's a good update coming in from Lord's. The conditions have become brighter now. That 9-letter word - EXPECTING - is a very crucial one in this Test. All the covers have been removed. Fingers crossed. Stay tuned... The play is now scheduled to start at 6.10 IST.
All set to start in 10mins if thr r no more rains @virendersehwag pic.twitter.com/yRw9RGyeLm

— Samip Rajguru (@samiprajguru) August 10, 2018
17.38 IST: Want to know what's on the lunch menu for India? Here is a sneak peek:
What's your pick from the team's menu for lunch today?#ENGvIND pic.twitter.com/CUhQ61RF99

— BCCI (@BCCI) August 10, 2018
17.20 IST: Lunch! Not totally unexpected as the umpires have called for an early Lunch. Hopefully, play resumes after the break. Stay tuned.... 
17.10 IST: Oh dear..
And, just when we were about to resume play, it has started to rain again.#ENGvIND

— BCCI (@BCCI) August 10, 2018
16.50 IST: Even better news! Play to resume at 17.15 IST. Lunch has been delayed till 18.15 IST while Tea at 21.10 IST. Be with us as the action is not far away...
It has stopped raining and the covers are coming off. Play to resume at 12.45 local time.#ENGvIND

— BCCI (@BCCI) August 10, 2018
16.45 IST: Good news, folks! The rain has stopped as of now and the weather has cleared up somewhat. The covers are coming off. We will keep you updated...
16.35 IST: Meanwhile, fans have started to look for humour amidst the gloom surrounding Lord's:
England vs India 2nd Test Match at Lord's be like 😂 #ENGvIND #INDvsENG #lordstest #Lords #Jimmy #Anderson #Kohli pic.twitter.com/zUyL8rs9Mg

— swagcricket (@swagcricket) August 10, 2018
16.26 IST: It has gone from really dark to really really dark in a matter of minutes. More covers are in place now as the rain droplets get bigger. Hopefully, we get action resuming soon. Stay tuned...
A brilliant start from the boys! 🙌

But the rain is back ☔️

Scorecard/Clips: https://t.co/hJLmwOsjVg#ENGvIND pic.twitter.com/9TUCeThxZH

— England Cricket (@englandcricket) August 10, 2018
16.15 IST: Cannot blame the Indian batsmen much. They have been put to a stern test of patience and skill but the master is the master. He found out ways to go past the defense of Vijay early and then nipped out Rahul. Broad has not been that incisive from the other end. As great seers usually would say - Even the best of batsmen would have been found wanting in this period. You will get beaten on numerous occasions in such conducive conditions but you have to remain calm.
16.10 IST: Excellent bowling from the master of swing. He is back. Talk about slope at Lord's - his reaction would be - Oh c'mon. I don't have 94 wickets here just like that. Make that 96 now. Will he get the remaining 4 in this innings itself?
16.08 IST: Pretty much expected. The players are going off. The drizzle is a bit heavy for play to carry on. This could be the norm for most of the day, so players need to be prepared accordingly - especially batsmen. That is why India will be very disappointed - more so Rahul. The play has been stopped just 2 balls after he got out.
16.05 IST: Play stopped due to rain after Virat Kohli arrives at the crease. Stay tuned for updates more updates. IND 11/2 in 6.3 overs.
16.00 IST: James Anderson to Virat Kohli, Kohli is off the mark! Fuller length ball around off, tapped in front of point for a run.
15.59 IST: OUT! James Anderson removes KL Rahul for 8. Rahul c Jonny Bairstow b James Anderson. The move to promote KL Rahul to the opening slot hasn't worked for India! The wild old fox, James Anderson has made some early inroads. This time he bowls a fuller length ball around off. Rahul is unsure whether the ball will move in or move away. He ends up poking at it and the ball flies off the outside edge behind. Bairstow moves to his right and accepts a regulation catch. India have lost their second wicket. IND 10/2 in 6.1 overs vs England at Lord's.
15.57 IST: Oh dear... it has gone very dark and has started to sprinkle too. The crowd is busy getting its raincoats and jackets on. Ahem...
15.51 IST: FOUR! James Anderson to Lokesh Rahul, Easy pickings! The first bad ball of the innings and it has been put away. Full ball straying on the pads, all Rahul has to get is a tickle on it and he does just that. Gets it through fine leg to find the ropes for the second time in the innings. IND 9/1 after 5 overs.
15.47 IST: FOUR! The first runs of the day! A brilliant shot from Rahul to get going. Fractionally overpitched outside off, Rahul leans ahead, opens his bat face a touch and caresses it through cover-point to find the fence. That will do his confidence a world of good. IND 4/1 after 4 overs.
15.42 IST: James Anderson to Cheteshwar Pujara, No run. Well outside off, left alone. Third maiden in a row. India yet to get off the mark. IND 0/1 after 3 overs.
15.38 IST: Stuart Broad to bowl with the second new ball from the other end.
15.35 IST: Cheteshwar Pujara comes out to bat. He has got a chance and he needs to make the most of it.
15.33 IST: OUT! James Anderson to Murali Vijay, OUT b James Anderson. India have lost their first wicket. IND 0/1 after 0.5 overs.
15.30 IST: We all are in readiness. The concerned men walk out to the middle. Murali Vijay and KL Rahul open the batting for India. James Anderson to steam in with the first new cherry.
15.25 IST: India skipper, Virat Kohli said that they would have bowled first as well, with the weather around. Mentions that it is a hard and dry surface, a good cricketing surface overall. Feels that every kind of player will be in with a shot on this surface. States that the guys are confident and they have to just get their mindset right.
15.23 IST: England skipper, Joe Root said that it is a fresh surface and with the conditions being overcast, they have a chance to take wickets. States that they are going in with a 4-1 combination.
PITCH REPORT - Sanjay Manjrekar finally gets to see the pitch today. Observes that it a green top, so green that we can barely see the deck! Well, he says he is JOKING now. Comes to the real track and notices that there are no real bare patches on the surface. There might be something for the spinners, though he predicts that it will be a one-spinner track. Win the toss and bat first, he reckons.
15.18 IST: Chris Woakes comes in for Ben Stokes, Ollie Pope is in for Dawid Malan as England will hope to strengthen their bowling unit and have the advantage as they opt to bowl first.
Congratulations on your first England cap @OPope32! 👏🏴󠁧󠁢󠁥󠁮󠁧󠁿🏏https://t.co/35Uz5mT0C0#ENGvIND pic.twitter.com/WHZvyyM02q

— England Cricket (@englandcricket) August 10, 2018
15.17 IST: Team India are full of surprises and for the 2nd Test, they're sticking to their strengths as they have brought in another spinner, Kuldeep Yadav for Umesh. 
India Playing XI
IND XI: M Vijay, L Rahul, C Pujara, V Kohli, A Rahane, D Karthik, H Pandya, R Ashwin, K Yadav, M Shami, I Sharma

— BCCI (@BCCI) August 10, 2018
England Playing XI
ENG XI: A Cook, K Jennings, J Root, O Pope, J Bairstow, J Buttler, C Woakes, S Curran, A Rashid, S Broad, J Anderson

— BCCI (@BCCI) August 10, 2018
15.10 IST: Shikhar Dhawan and Umesh Yadav dropped as Cheteshwar Pujara and Kuldeep Yadav come in for the 2nd Test.
15.02 IST: ENGLAND WIN TOSS, OPT TO BOWL vs INDIA
14.45 IST: Here's IndiaTV Cricket Experts Sourav Ganguly and Virender Sehwag preview the second Test. Watch below
14.35 IST: After a frustrating day of rain, the second day seems to be bright and sunny.
Day ✌ of the 2nd Test. Bright and sunny at the moment with a hint of black cloud cover approaching.#ENGvIND pic.twitter.com/ECMKdI0Bfb

— BCCI (@BCCI) August 10, 2018
14.30 IST: Hello and welcome to our Live coverage of day two of the second Test between India and England in Lord's. Stay tuned as we bring you all the latest updates.
Brief Day 1 Report: 
Frustrating the two teams, incessant rain washed out the entire day one of the second cricket Test between India and England at Lord's on Thursday. The toss is yet to take place as rain played spoilsport through the entire day. Fans cam out in huge numbers to witness the 2nd Test at the iconic ground, however, it was a gloomy day for all. 
The play was called off at 4.50 pm local time without a single ball being bowled. The match officials decided to take an early lunch, moving the scheduled break ahead by 30 minutes. Even after lunch, there was no respite from the rain and it went on throughout the afternoon.
Finally, 45 minutes after the tea break', the umpires inspected conditions twice before declaring no play was possible today.
The remaining four days will see 96 overs each to make up for the lost time. However, there is more rain forecast for this weekend and as such this match could see routine rain breaks. (READ FULL REPORT HERE)