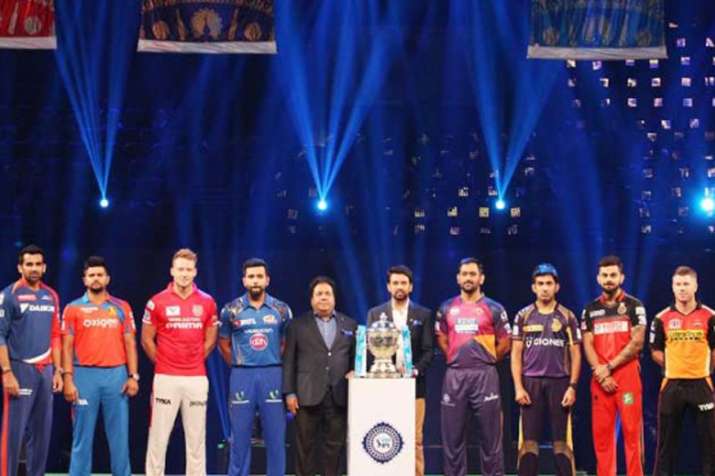 The 10th edition of the Indian Premier League (IPL) will start from today with a match between reigning champions Sunrisers Hyderabad and last year's runners-up Royal Challengers Bangalore.
The season will also witness IPL returning to Indore for the first time since 2011.
The 'cricket festival' will witness eight teams in action and the league will last for almost two months with 60 matches to be played. 
Cricket fans are anxiously waiting for the action to start on the ground. 
Here is the full list of matches of IPL 10:
Match 1: SRH vs RCB, April 5 2017, 20:00 IST
Match 2: Rising Pune Supergiants vs Mumbai Indians, April 6 2017, 20:00 IST
Match 3: Gujarat Lions vs KKR, April 7 2017, 20:00 IST
Match 4: Kings XI Punjab vs Rising Pune Supergiant, April 8 2017, 16:00 IST
Match 5: RCB vs Delhi Daredevils, April 8 2017, 20:00 IST
Match 6: SRH vs Gujarat Lions, April 9 2017, 16:00 IST
Match 7: Mumbai Indians vs KKR, April 9 2017, 20:00 IST
Match 8: Kings XI Punjab vs RCB, April 10 2017, 20:00 IST
Match 9: Rising Pune Supergiant vs Delhi Daredevils, April 11 2017, 20:00 IST
Match 10: Mumbai Indians vs SRH, April 12 2017, 20:00 IST
Match 11: KKR vs Kings XI Punjab, April 13 2017, 20:00 IST
Match 12: RCB vs Mumbai Indians, April 14 2017, 16:00 IST
Match 13: Gujarat Lions vs Rising Pune Supergiant, April 14 2017, 20:00 IST
Match 14: KKR vs SRH, April 15 2017, 16:00 IST
Match 15: Delhi Daredevils vs Kings XI Punjab, April 15 2017, 20:00 IST
Match 16: Mumbai Indians vs Gujarat Lions, April 16 2017, 16:00 IST
Match 17: RCB vs Rising Pune Supergiant, April 16 2017, 20:00 IST
Match 18: Delhi Daredevils vs KKR, April 17 2017, 16:00 IST
Match 19: SRH vs Kings XI Punjab, April 17 2017, 20:00 IST
Match 20: Gujarat Lions vs RCB, April 18 2017, 20:00 IST
Match 21: SRH vs Delhi Daredevils, April 19 2017, 20:00 IST
Match 22: Kings XI Punjab vs Mumbai Indians, April 20 2017, 20:00 IST
Match 23: KKR vs Gujarat Lions, April 21 2017, 20:00 IST
Match 24: Delhi Daredevils vs Mumbai Indians, April 22 2017, 16:00 IST
Match 25: Rising Pune Supergiant vs SRH, April 22 2017, 20:00 IST
Match 26: Gujarat Lions vs Kings XI Punjab, April 23 2017, 16:00 IST
Match 27: KKR vs RCB, April 23 2017, 20:00 IST
Match 28: Mumbai Indians vs Rising Pune Supergiant, April 24 2017, 20:00 IST
Match 29: RCB vs SRH, April 25 2017, 20:00 IST
Match 30: Rising Pune Supergiant vs KKR, April 26 2017, 20:00 IST
Match 31: RCB vs Gujarat Lions, April 27 2017, 20:00 IST
Match 32: KKR vs Delhi Daredevils, April 28 2017, 16:00 IST
Match 33: Kings XI Punjab vs SRH, April 28 2017, 20:00 IST
Match 34: Rising Pune Supergiant vs RCB, April 29 2017, 16:00 IST
Match 35: Gujarat Lions vs Mumbai Indians, April 29 2017, 20:00 IST
Match 36: Kings XI Punjab vs Delhi Daredevils, April 30 2017, 16:00 IST
Match 37: SRH vs KKR, April 30 2017, 20:00 IST
Match 38: Mumbia Indians vs RCB, May 1 2017, 16:00 IST
Match 39: Rising Pune Supergiant vs Gujarat Lion, May 1 2017, 20:00 IST
Match 40: Delhi Daredevils vs SRH, May 2 2017, 20:00 IST
Match 41: KKR vs Rising Pune Supergiant, May 3 2017, 20:00 IST
Match 42: Delhi Daredevils vs Gujarat Lions, May 4 2017, 20:00 IST
Match 43: RCB vs Kings XI Punjab, May 5 2017, 20:00 IST
Match 44: SRH vs Rising Pune Supergiant, May 6 2017, 16:00 IST
Match 45: Mumbai Indians vs Delhi Daredevils, May 6 2017, 20:00 IST
Match 46: RCB vs KKR, May 7 2017, 16:00 IST
Match 47: Kings XI Punjab vs Gujarat Lions, May 7 2017, 20:00 IST
Match 48: SRH vs Mumbai Indians, May 8 2017, 20:00 IST
Match 49: Kings XI Punjab vs KKR, May 9 2017, 20:00 IST
Match 50: Gujarat Lions vs Delhi Daredevils, May 10 2017, 20:00 IST
Match 51: Mumbai Indians vs Kings XI Punjab, May 11 2017, 20:00 IST
Match 52: Delhi Daredevlis vs Rising Pune Super Giant, May 12 2017, 20:00 IST
Match 53: Gujarat Lions vs SRH, May 13 2017, 16:00 IST          
Match 54: KKR vs Mumbai Indians, May 13 2017, 20:00 IST
Match 55: Rising Pune Supergiant vs Kings XI Punjab, May 14 2017, 16:00 IST
Match 56: Delhi Daredevils vs RCB, May 15 2017, 20:00 IST
1st Qualifier: May 16 2017, 20:00 IST
Eliminator: May 17 2017, 20:00 IST
2nd Qualifier: May 19 2017, 20:00 IST
Final: May 21 2017, 20:00 IST