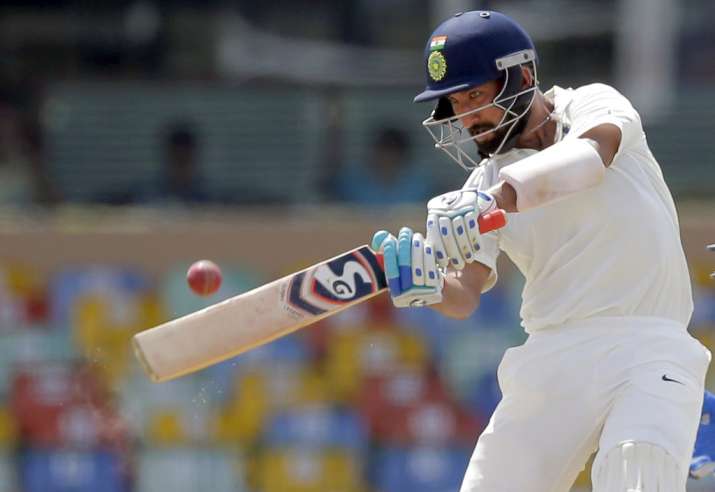 Playing county cricket for Nottinghamshire helped Cheteshwar Pujara a great deal, the top-order India Test ace said after scoring a fighting 52 against Sri Lanka in the first Test at the Eden Gardens, Kolkata. It was because of Pujara that India could post 172 as none of the other batsmen scored above the 30-run mark even on a seam-friendly Eden track. Wicketkeeper-batsman Wriddhiman Saha, who was not out on 6 overnight, was the second-highest scorer at 29.
At stumps, Sri Lanka were 165/4 trailing by seven runs.
"Playing county cricket has definitely helped me," Pujara told reporters at the post-match press conference.
"I played eight matches which is almost half of the matches as over there you play 16 games. I played four games before the Sri Lanka series and four after the series so...it gave me a lot of exposure. At the same time I have played on many challenging wickets and as a cricketer, I have learnt many things and I am improved and understood my game," the 29-year-old said.
Pujara said the hosts are still very much in the game and it would take a couple of wickets on the fourth day to run through the opposition.
Skipper Dinesh Chandimal (13) and Niroshan Dickwella (14) were at the crease at the time of stumps, called early due to bad light.
"At this stage, we are very much in the game. Wicket has got a lot better. We got 170-odd runs now we have got four wickets. We are confident if weather permits, we will make a game out of it," he said.
"Overall if we look at the weather, today it was much better and the clouds were not around. When the clouds were around there was help for the fast bowler. When we were fielding sun was out. Wicket now is better so there is something in it for the fast bowlers. 
"They got off to a good start but we fought back. Hopefully tomorrow our fast bowlers will come good and if we can get a couple of wickets early, we can run through them."
Asked if he thought India got out cheaply and on green tops like these where batting is challenging, Indian batsmen are struggling, Pujara said: "I think talking about this team, we are ready to play on any kind of wicket. Against New Zealand when we played in Kolkata there was some help for the fast bowlers. 
"So I think this team is ready to play in any conditions. This is not a 350-400 wicket. We might have added 30-40 runs more but it's still a decent wicket considering how wicket was behaving in the last two days."
He added that personally, he loves batting in challenging conditions like these.
"Personally, I love playing on challenging wickets. It suits my temperament and technique. On these wickets, your character comes up and you feel that you're confident and can pull a team out of trouble. I try and stay strong when the wicket is difficult," he said.
(With IANS Inputs)