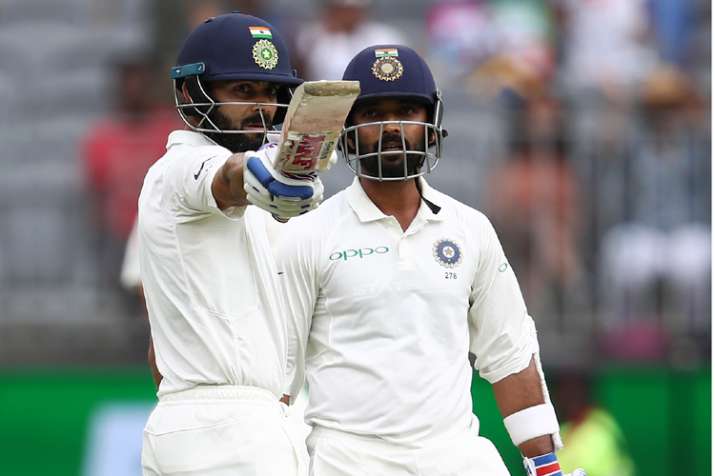 Highlights, India vs Australia, 2nd Test Day 2: What a fight it has been from India! Not many would have given them a chance on this wicket. They end Day 2 on 172/3 after being 8/2 at one time. They lost openers, KL Rahul and Murali Vijay, early after Australia were bundled out for 326 with Ishant's four-for. But what a comeback it has been since then, Cheteshwar Pujara and skipper Virat Kohli anchored the visitors since then. Despite Pujara's valiant effort in Perth, he was dismissed for 24 through Strac. However, Kohli stood strong along with his deputy Ajinkya Rahane, where both scored their fifties. India trail by 154 runs at stumps and can we expect the skipper reach the three-figure mark in the morning tomorrow. Do join us for the action at IndiaTV Sports. (LIVE SCORECARD)
Highlights, India vs Australia, 2nd Test, Day 2 Live from Perth
* One thing that Australia would be happy about is the fact that there haven't been any free runs or loose runs given. Everything has been hard earned and the Indians have not been left off the rope. The day was mostly played under cloudy weather and cracks on the pitch seemed to have closed and the ball didn't misbehave as much as it did yesterday. So then, Kohli unbeaten on 82 and Rahane unbeaten on 51. These two will both look to go on to make it count and continue for as long as possible. In the hosts' point of view, can they grab either one of these or both early tomorrow? Should be really fun to watch.
That's stumps! Kohli (82*) and Rahane (51*) finish the day unbeaten with India trailing by 154 runs.

Classic day of Test cricket: https://t.co/mzWOwn19la #AUSvIND pic.twitter.com/N5NkQ6cQrE

— cricket.com.au (@cricketcomau) December 15, 2018
15.21 IST: STUMPS! Kohli and Rahane remain unbeaten on 82 and 51 respectively as India finish day two on 172/3, trailing Australia by 154 runs.

15.12 IST: FOUR!
Just as we say it was a good over, it is spoilt by a poor delivery on the hips. Easily worked away fine on the leg side for four. The trail is cut down to 159 runs now.
15.06 IST: FIFTY for the INDIAN VICE-CAPTAIN!
His 17th in Tests. The ball was outside off and on the fuller side, Rahane drives it through cover and gets to the other end. A very good knock in the situation. Needed it as he was replacing Pujara at the crease. 
India 162/3, trail Australia (326) by 164 runs.
FIFTY!

A patient and gritty half-century from @ajinkyarahane88 🙌🙌👏. His 17th in Test cricket. #AUSvIND pic.twitter.com/WKnJGYb0oE

— BCCI (@BCCI) December 15, 2018
15.03 IST: FOUR!
Overcompensates on this occasion as he goes short and wide outside off. Rahane rocks back and cuts it over backward point for another four. Moves onto 48 with the second consecutive boundary.
15.03 IST: FOUR!
Glorious would be the word here. The ball goes as straight as a whistle down the ground. Lucky not to have hit the stumps at the non-striker's end. Lovely to watch and four runs.
15.02 IST:
Hazlewood back on for a final burst on day two.
14.58 IST:
Kohli has been all class today and this is one shot from his innings.
That's a shot.

Live coverage here: https://t.co/mzWOwn19la #AUSvIND pic.twitter.com/P3q26kuNEv

— cricket.com.au (@cricketcomau) December 15, 2018
14.51 IST: FOUR!
Ridiculous how easy he makes batting look. The ball is outside off and on a full length, slightly swinging away. Kohli leans into it and drives it wide of mid off and the ball is timed sweetly and goes all the way for a four.
14.44 IST:
Cummins is back on for Australia.
14.36 IST: FOUR!
Welcome boundary for India. Sublime and lovely to the eye! Full and outside off from Starc, Rahane takes a big step forward and creams it through the covers for a boundary.
14.28 IST:
Lyon follows it up with another maiden.
14.26 IST:
And he starts his spell with a maiden.
14.23 IST:
Starc has come on for the Aussies.
14.17 IST: FOUR!
Very full and easy pickings for VK when he is at this stage of his innings. He just takes a stride forward and on drives this for a boundary.
14.11 IST: FOUR! 
Pulled away on the back foot. Rahane stands tall and pulls this short one square on the leg side and all the way to the fence. No one out there to stop it.
14.10 IST:
Good ball outside off, Rahane drops it down on the off side. His skipper on the other end wants a run but is rightfully sent back. Travis Head picks up the ball and has a shy at the non-striker's end but misses the throw. Kohli would have been just in had the ball hit, suggest the replays.
14.07 IST:
Hazlewood to continue.
14.04 IST:
Lyon to continue after the break.
14.01 IST: DRINKS!
An enterprising hour of play from both sides. The Aussies would be happy to have seen the back of Pujara. Ajinkya Rahane who came in next has played his shots and scored at a brisk pace. His skipper reached his fifty and is looking good. The next hour of play will be a very crucial period of play. Who can come out trumps? 
India 117/3, trail Australia (326) by 209 runs.

14.00 IST: 
What happened there? Hazlewood rares up a ball of a good length and jags in after landing. Rahane is surprised as he looks to defend off the back foot. He does well to drop his bottom hand off the bat as the ball takes the top half of the blade and goes towards first slip.
13.57 IST:
Kohli and Rahane will be key for India if they have to go anywhere near Australia's first innings total. The former has looked solid while Rahane has showed intent right from the word go.
13.53 IST:
It is bright again as the sun peeps out from the cloud cover. 
13.50 IST:
Josh Hazlewood back on for Australia.
13.47 IST:
It's sunny and raining as well in Perth as Nathan Lyon comes on to bowl.
13.47 IST: FOUR!
Cut away above slip and gully for four!
FIFTY FOR THE SKIPPER
! 20th in Tests. What an inning it has been so far. Started off quick in a statement to the bowlers that he is not here to be dictated terms to. Then slowed down and played according to the merit. Lovely batting but it is imperative for India that he continues.
The India skipper in ominous touch as he brings up his fifty.#AUSvIND | @Domaincomau pic.twitter.com/9r0KC5DSkX

— cricket.com.au (@cricketcomau) December 15, 2018
13.41 IST: SIX!
This surely is Virender Sehwag batting wearing the mask of Ajinkya Rahane. You don't see Rahane hitting biggies often even in T20 cricket. Plenty of intent shown. As soon as Starc digs in a short delivery outside off, Rahane latches onto it, stands tall inside the crease and spanks it over third man for half a dozen of runs. Great battle between bat and ball going on.
13.40 IST:
100 comes up for India as Kohli pushes one through the gap at covers and takes a single.
India 102/3, trail Australia (326) by 224 runs

13.37 IST: 
Edgy! Cummins slants in a length ball around middle and off, Rahane is squared up in his stance as he tries playing it straight. It goes off the outside half of his bat to point and Ajinkya comes out of his crease in search of a run. Kohli initially shows interest but then sends him back.
13.31 IST: FOUR!
Eased away! Short again by Starc, on the body of Rahane who just helps it away on its way to the fine leg fence. Used the pace of the bowler to his advantage. He's showing good intent and looking to take the attack to the bowler.
13.30 IST:
This strategy from Australia reminds me of the bodyline series. Keep a short-leg and target the batsman's body and wait for a looped defence. Starc is in full flow and Rahane is not backing out. Interesting session ahead.
13.26 IST: FOUR!
What a shot to play off just your seventh delivery! Banged short outside off, Rahane rocks back and plays the upper cut over point for four runs. A positive looking Rahane has come to the crease, might just work in his favor.
13.24 IST:
It looks like Australia have found a new lease of life but Rahane ha come out attacking. It'll be interesting to see how long he tries to take the game to the hosts.
13.23 IST: 
Rahane will fight fire with fire. As soon as Starc digs in another short ball, Rahane pulls out the horizontal bat shot from his repertoire. He stays back to wheel his bat across the line but fails to middle his shot. It takes the bottom half and loops in the air. Luckily for him, it goes safely over mid-wicket for a couple. Jinx is off the mark.
13.22 IST:
 Paine appeals for another catch down the leg side! This time it's not given and Starc is also not interested. A shortish delivery around leg, Rahane tries working it around but misses. There is some noise which the replays later on show to be coming from the ball brushing Rahane's jersey.
13.21 IST:
Ajinkya Rahane comes out to bat.
13.19 IST: OUT!
 Starc strikes gold! Pujara has been caught down the leg side. The field was set for some short stuff as Paine had planted short leg and leg gully. But the wicket-taking delivery turns out to be a back of a length ball going down the leg side. Pujara tries to glance it off his hips but gets a faint edge behind to Paine. He makes no mistake, they appeal and the finger has gone up. Australia finally succeed in breaking the 74-run partnership. A big breakthrough too as Pujara is someone who has the ability to bat for a longer period.
India 82/3, trail Australia (326) by 244 runs.

13.15 IST: FIVE WIDES!
 Five bonus runs for India! Effort delivery by Cummins. He bends his back and lets out a short delivery. It goes way over the head of the batsman and Paine has no chance of collecting it even with a jump. The umpire stretches his hands to call it a wide.
13.14 IST:
Both Kohli and Pujara are playing for the present and definitely not thinking about what the pitch can be come tomorrow when the weather changes.
13.12 IST:
India have scored just 5 runs from five overs after Tea and it doesn't look like the run-rate will increase anytime soon by the way these two are going. Extremely cautious. Is it the need of the hour? Maybe but could they be a little more open? Definitely. 
13.04 IST: NOT OUT! 
TOO HIGH! Cummins with a delivery which nips back in from a good length around off. Pujara with a static footwork tries to defend it from the crease but is beaten for pace, probably. He is thudded on the pads, they appeal but the umpire shakes his head. Paine has a chat with his bowler and goes for the DRS. The replays roll in and they find it to be heading over the sticks. Australia lose a review.
No dramas for Pujara there and the Aussies lose a review #SpecsaversCricket#AUSvIND | @SpecsaversAU pic.twitter.com/U0hoQJ8FAH

— cricket.com.au (@cricketcomau) December 15, 2018
13.02 IST:
It is cloudy in Perth and the pitch is not opening up or doing anything wayward. India should look to make the most of this session and get some runs on the board as the moment there is sunlight, the pitch will start to break up and batting will get increasingly difficult.
12.54 IST:
Pat Cummins has the ball from the other end.
12.50 IST:
Kohli and Pujara did the hardwork and got set before tea and they will have to do it all over again. But if not them then who? Crucial session ahead in the game.
12.49 IST:
The players are back on the field and Kohli will be on strike with Starc starting the proceedings for Australia.
12.36 IST:
An attritional session of Test match cricket. Started positively for the Aussies as they got the wicket of KL Rahul. The ball was being made to do all sorts of funny things by the pacers. But enter Kohli, he met fire with fire and looked positive from the outset. He was ably supported by his 'Man Friday', Cheteshwar Pujara. They both have endured a tough session where run scoring was not easy nor was surviving. They did have a bit of luck but the fact of the matter is that they are not out. It is imperative for them to continue if India are to reach anywhere close to the Australian total. Will the two pillars of the Indian team hold strong or will the Aussies be able to bring it down? We will see in the last session which will begin in a while.
12.32 IST: TEA! India 70/2, trail Australia (326) by 256 runs. Kohli 37*, Pujara 23* Hazlewood 1/30
That's tea! An enthralling battle as Kohli (37*) and Pujara (23*) get through to the break with India 2-70, trailing by 256.

Cummins has 0-6 off six overs: https://t.co/mzWOwn19la #AUSvIND pic.twitter.com/nTP8IULcOi

— cricket.com.au (@cricketcomau) December 15, 2018
12.29 IST: FOUR! 
Beautiful drive from Kohli. India's first boundary after 130 deliveries. Full delivery outside off, Virat comes ahead and drives it through the covers. Races away to the fence.
12.22 IST:
Another over goes by with just two runs from it. Kohli and Pujara have soaked in the pressure and will be looking to play out till Tea which is around the corner.
12.13 IST:
The partnership between the two crosses 50 and the work is not even half done. The pair continues to graft against the Lyon and Cummins, who have been excellent. 
12.04 IST:
Australia apply pressure as Lyon continues to bowl on with a silly point, short leg and slip to Pujara.
11.52 IST:
Hazlewood replaces Cummins and starts off with a bouncer.
11.48 IST: 50 up for India in the 22nd over. Kohli 25*, Pujara 15*

11.35 IST: 
 Outside off to start off with, Kohli decides to leave this one. The ball turns in sharply and bounces a large amount as well. That has what has saved Kohli here. Just a whisker away from the off stump. There is a wide grin on Lyon's face. The ball has spun a long way there.
Yep, two types of leaves! Wait for the replay... #CloseMatters #AUSvIND | @GilletteAU pic.twitter.com/dm99xtmuPV

— cricket.com.au (@cricketcomau) December 15, 2018
11.34 IST:
Back after drinks and Lyon to continue.
11.33 IST: DRINKS!
The first hour after the Lunch break has been an intriguing one. Hazlewood wasted no time in shattering Rahul's stumps but since then Virat Kohli and Cheteshwar Pujara have formed and alliance. The Indian skipper has looked in ominous touch on a testing surface, thereby displaying his true class. His partner has been solid as well but there are odd deliveries causing issues to the batsmen. It's a demanding deck and a batsman is never in. Need to keep concentrating hard.
India 43/2 (17 overs)

11.27 IST:
The runs haven't come as much but Kohli and Pujara have settled in pretty well and that will give the visitors some hope. However, on this pitch, a wicket is just a good ball away.
11.17 IST:
Nathan Lyon has been called on by Tim Paine.
11.04 IST:
Pat Cummins into the attack.
11.01 IST: FOUR! 
Woahh! Another sublime looking shot. Comes back to the fuller length after just one ball and Kohli pounces on it like a hungry tiger. Flicks it away beautifully to the mid-wicket fence to get the third boundary in the over. What will Josh do now?
11.00 IST: FOUR! 
On the offside this time. Full and outside off, Kohli is well ahead and leans into this off drive. The fielder at a fullish mid off dives to his right but can't reach it. Two in two for the skipper.
10,59 IST: FOUR
! Overpitched and easy pickings for Kohli! Too full and on middle, the captain uses his wrists to flick it away in front of square on the leg side and all the way for four runs.
10.55 IST: FOUR! 
Too full this time and Pujara strokes it away beautifully through the covers for a boundary. It was a teaser for Head who gives it chase but the ball just has enough on it to reach the fence.
10.50 IST:
Kohli and Pujara will be key for India. They have to build the innings, score runs and steady the ship. India's fortunes depend on these two and team management will hope they deliver.
10.41 IST
:  
FOUR!
Josh Hazlewood to Virat Kohli, What a shot! Fuller length ball on middle but Kohli being Kohli, doesn't defend and goes for the positive approach as he on-drives this past mid-on for four runs. Looked real good on the replays too. 
India 12/2 in 5.3 overs
*Virat Kohli is in at no. 4.
10.38 IST: OUT! Hazlewood removes Rahul for 2. India 8/2 in 5.1 overs vs Australia (326) in Perth
10.33 IST: Mitchell Starc to continue from the other end. India 6/1 in 4 overs
10.30 IST: Josh Hazlewood to Lokesh Rahul, Lovely shape first up, Rahul is half forward in defence and plays it towards cover-point.
10.27 IST: We are ready for the start of the second session. India still 320 runs behind. Pujara joins Rahul at the crease as the visitors aim to come back in the match.
09.55 IST: What a session for the Aussies! The Indians had their tail up when they got the last 4 wickets of the hosts for 16 runs. But they have been quickly quietened in the third over of their innings. They have lost their 'Monk', and are 6 for the loss of 1. This wicket would give Mitchell Starc a lot of confidence following his not so inspirational performance at Adelaide for which he has received a lot of flak. India's best batsman in the first Test, Cheteshwar Pujara and KL Rahul have a lot of work on their hand when they come back in the 2nd session. Can they build a partnership or will the Aussie pacers be too hot to handle? Join us for the post-Lunch session in sometime.

09.49 IST: OUT! Bowled 'em! There's the first one! A huge gap between bat and pad and the timber is disturbed. A Starc special here, as this one lands on middle and tails in after landing. A loose, loose shot from the opener and the ball knocks his middle stump after brushing the back pad on it's way through. Just the start the hosts would have wanted and exactly not what the Indians would have liked. THAT WILL ALSO BE LUNCH ON DAY 2. India 6/1 (3 overs )

09.40 IST: FOUR leg byes! The first ball from Josh is angling down at the pads and hits Vijay on the pads as he tries to guide it down to fine leg. The ball runs all the way to the fence and India are off the mark.

09.40 IST: Josh Hazlewood has the ball from the other end.

09.39 IST: Maiden to begin with from Starc.

09.33 IST: The players are out in the middle. KL Rahul and Murali Vijay will open for India while Mitchell Starc has the ball for Australia.

09.32 IST: Looking ahead, the pitch is doing all sorts of things if you bowl in the right areas. It is not easy for batting but at the same time, not impossible to bat too. The onus will be on the openers, who will have to deal with the new ball. The hosts' new ball bowlers will look to pick up early wickets, knowing especially how jittery the visItors' middle order is. Let us see what happens. 

09.30 IST: The innings has come to a very abrupt end after one time it was looking as if 350 was a sure thing. A brilliant half-century from Marcus Harris was the best knock out of the three 50s in the innings. Finch also struggled his way to a half-century and Travis Head was the third one who got to the 50-run mark. Marsh played well but was out 5 runs short of his half-century. On the bowling front, Ishant was the pick of the bowlers as he picked up 4 wickets. Bumrah, Yadav and Vihari picked up two apiece as Shami went wicketless. All in all, a par score one would feel, maybe Australia slighlty ahead.


That's it from the 1st Innings. Australia 326. Ishant picks 4, Bumrah, Yadav and Vihari pick 2 each #TeamIndia #AUSvIND pic.twitter.com/enmP3hQSeA

— BCCI (@BCCI) December 15, 2018
09:26 IST: OUT!
Ishant gets four and AUSTRALIA ARE BOWLED OUT FOR 326. Excellent delivery again, it's angled in from 'round the wicket in the direction of the stumps. Hazlewood has to play at it but to his misfortune, it's an outswinger which kisses the outside edge of his blade. Pant dives across to his left to take a fine catch. Sharma will be on a hat-trick next time. 
Australia 326 all-out.

09.25 IST:
Josh Hazlewood is the last man in.
09.24 IST: OUT!
The ninth one departs and Ishant has his third of the innings. A good quick 16-run stand comes to an end. This seems to be the ploy to get Starc out. An action replay of his dismissal at Adelaide. Wide outside off and moves away slightly after landing, Starc goes for a wild drive and gets the outside edge. Pant takes a good catch diving to his left. India doing well here after the Drinks break.
09.22 IST:
Ishant is back on for India now.
09.18 IST:
Lyon and Starc have upped the ante and have been busy. Both are looking to hit their shots and get runs.
09.16 IST:
Shami is back on and he will bowl to the left-handed Starc.
09.08 IST:
Nathan Lyon is the next man in.
09.07 IST: OUT!
Paine is on his bike! Two quick wickets for India and their fans in the stands are delighted. Bumrah delivers it from wide of the crease and angles in a length ball on middle. Paine is caught deep inside the crease as he attempt to work it on the leg side. But probably he got beaten for pace as he misses the ball to get rapped on the pads. They appeal and the umpire has no hesitation in raising his finger. Paine takes the review but to no avail. Three reds. He has to go but not before playing a very vital knock for his team. So, Australia now have two new batsmen in the middle who are yet to face a ball. Can India finish things quickly now?
The Aussie skipper trapped in front and unable to overturn the decision #AUSvIND@SpecsaversAU #SpecsaversCricket pic.twitter.com/gdwjIE1cfV

— cricket.com.au (@cricketcomau) December 15, 2018
09.04 IST:
Mitchell Starc has come out in the middle.
09.03 IST: OUT!
Bowled 'em! The seventh one is finally gone after a 59-run stand. Umesh has been really good this over and Pat was in two minds because of the length that the bowler has been hitting. This one is just a little fuller and lands on off. The ball seems to be coming in with the angle but straightens in the end and beats the outside edge of Cummins as he looks to defend. It goes on to hit the top of the off pole. Dream delivery for any seamer! This is what was required since the beginning for the visitors.
08.59 IST: FOUR! 
Yorker gone wrong. Jasprit goes for the surprise yorker but it is a full toss on off stump that is gleefully accepted and put away by the skipper down the ground for a boundary. Good way to end the over for the hosts.
08.55 IST:
Bumrah to continue after lunch and this time, Kohli has a short-leg.
08.51 IST: DRINKS!
13 overs into the day's play and the hosts have been largely untroubled. A seamless hour for the Aussies. They have added 29 runs and lost no wickets. The visitors haven't been consistent and trying too many different things while bowling. They need to do something soon, else the game could be going away from them very quickly.
Australia 306/6 (103 overs)

08.40 IST:
The two take Australia past the 300-run mark and also complete the 50-run stand for the seventh wicket.
08.34 IST:
Jasprit Bumrah comes on to replace Ishant.
08.29 IST:
Umesh Yadav introduced into the attack in place of Shami.
08.25 IST:
Fuller on this occasion, the inswing beats Cummins and gets him on his knee roll. The Indians appeal but the umpire in unmoved. The ball seemed to be a little too high and even Virat gestures the same to the bowler.
08.14 IST: FOUR!
That should give him confidence after that blow. Outside off and short, Tim just has to place it in the gap to the left of point and the ball runs away to the fence.
08.12 IST:
The sun is slowing coming out and going forward, that could be a bad news for India.
08.09 IST:
Four overs into the day's play and the home side has looked untroubled so far. Picking up singles and looking to take the score past 300.
08.00 IST: FOUR!
First boundary of the morning as Shami attempts the shorter ball. It is outside off and allows Paine to free his arms and pull it away behind square. It was in the air but no fielder there and the ball strolls over the fence for four runs.
07.55 IST: 
Ishant Sharma
to bowl from the other end.
07.54 IST:
A decent start from Shami. Only one run off it.
07.50 IST:
We are underway. The players and the umpires are walking out on to the field of play. Tim Paine to face the first ball of Day 2 which will be bowled by
Mohammed Shami
.
07.40 IST:
Australia's key player on Day 2 -- Pat Cummins.
Pat Cummins still has some batting to do before it's his turn to bowl on day two #AUSvIND pic.twitter.com/set8DW87RR

— cricket.com.au (@cricketcomau) December 15, 2018
07.38 IST: WEATHER UPDATE - 
It's 23 degrees in Perth and cloudy with a humidity of 74 per cent but the good news is that there is zero per cent of precipitation. India would hope it stays that way because that would mean the cracks won't open up -- one thing less to worry about in an already wayward Perth pitch. 
07.36 IST:
The first session of the day like most days will play an important role. If India can get them out below 320 like Hanuma Vihari said, Kohli & Co. will feel they have the advantage but if the home side get ahead of that, the Aussies will drive home the advantage.
07.31 IST:
This is how the pitch looks like before play on day two. Michael Vaughan with the pitch report. Starting with the overhead conditions, he says that there is a little bit of cloud cover which will make it cooler. Adds that there is plenty of grass cover and it made it uneven and difficult for the batsmen, should continue to be the same. With already 277 on the board, he feels that the Aussies are on top as it won't become any easier for batting.
Day two #AUSvIND pic.twitter.com/mTrhNiaRvd

— cricket.com.au (@cricketcomau) December 15, 2018
07.28 IST:
Hello and welcome. Day 2 of the second Test is set to be another cracker with both teams looking to get their hold in the match. Australia are a tad ahead because of the already competitive total they have after the first day's play but India would like to get them out and start well.
What does Day 2 have in store? #AUSvIND pic.twitter.com/lv9Qy4F27d

— BCCI (@BCCI) December 15, 2018
(Brief report Day 1) India recovered from a patchy start to reduce Australia to 277 for six on the opening day of the second Test but the hosts still walked out with advantage considering the bowler-friendly conditions on Friday. A 112-run opening stand between Marcus Harris (70) and Aaron Finch (50) vindicated their decision to bat on green top before Indian bowlers made a decent recovery by taking three wickets each in the last two sessions. With the pitch offering better assistance from the post-lunch session and the Indian bowlers managing to rectify their line and length, the visitors made in roads into the Australian batting line-up. Read full Day report Day 1
here
)