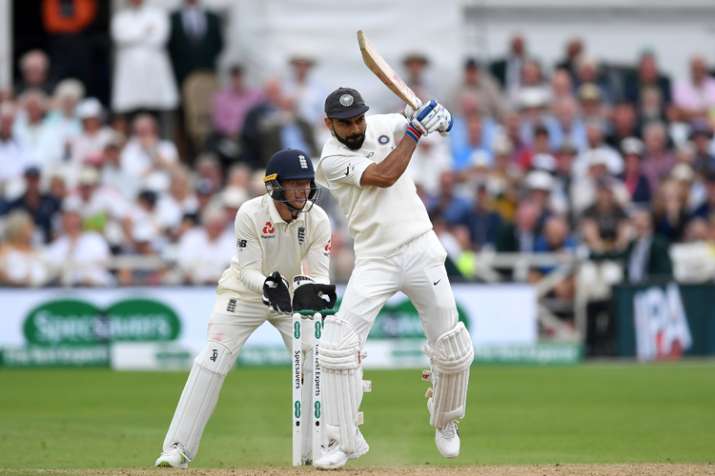 Indian skipper Virat Kohli has already scored 440 runs in the ongoing Test series against England. With two more matches to go in the series, he is now closing on the tally of highest runs scored in a single Test series in England by the country's batsmen. Currently, former captains Rahul Dravid and Sunil Gavaskar are ahead of Kohli with 602 and 542 runs respectively in a series of Tests.
Former India opener Virender Sehwag has full faith in Kohli to go on and break these records. On IndiaTV's show 'Cricket ki Baat' Sehwag said that the two greats would feel very happy if Kohli goes on to break their records on the current tour.
"It's not a danger to the greats (Rahul Dravid and Sunil Gavaskar). Instead, it's a news of immense happiness if someone is about to break their record. It's similar to the joy I felt when Karun Nair became the second triple-centurion for India after me. Gavaskar and Dravid too would feel the same way if and when Kohli breaks their records. I myself want him to do so because it will mean that he scores runs which in turn would culminate in India winning the series," said Sehwag.
Trailing 1-2 in the current series, India need to win the next two Tests to win the series. The fourth match is in Southampton followed by the last at The Oval - both of which are considered more batting friendly than the surfaces that we have seen till now. When asked whether favourable conditions would help Kohli break the records, Viru agreed by saying: "He made 97 and 103 in the last Test on a bowler-friendly pitch and therefore when he gets favourable batting conditions in the next two Tests, we can expect him to score not just a ton but a double-century. He has already hit 6 double hundreds in a year. So I expect him to score a double hundred and even possibly a triple as that is the only thing missing from his CV".
On the question of how it feels if someone breaks your own record the Sultan of Najafgarh brushed aside the myth that it means sadness for the player whose record is surpassed. "When I broke (VVS) Laxman's record of 281 runs, he hugged me and we kept on talking the whole night even celebrating by cutting a cake. When someone breaks your records you should be happy instead of being sad," said Viru in his inimitable style.
The former opener also emphasised on the need of four-five Indian players playing well in order to win the next two matches by saying: "A single player might be able to win you games in the shorter formats but in Tests it is impossible. So to win the series at least 4-5 Indians will have to perform well. That is why whenever we go on tours we emphasise on partnerships. The teams should always focus on building partnerships in both bowling and batting."
Considering the spin-friendly surfaces that await India in the next two matches, Sehwag backed the visitors to go with two spinners, while praying for R Ashwin to be fully fit.
"Ravindra Jadeja could play along with Ashwin. India are lucky to have two spinners in their ranks who can bowl out oppositions. But it will be problematic if Ashwin is unfit as India will be handicapped if they play with only one spinner on a surface where two should play. I wish Ashwin gets fit and India field both of them. Another advantage is that both of them can bat so it will also boost the team batting," concluded Sehwag.