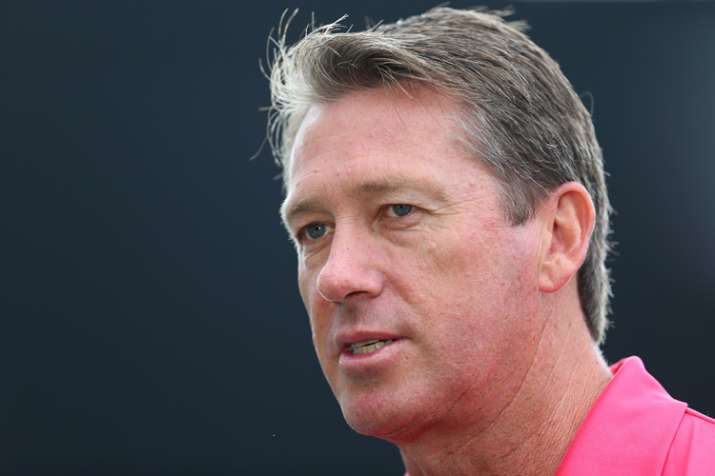 Legendary Australian fast bowler Glenn McGrath thinks that the ability to adapt to different conditions has made Virat Kohli a great player. In an exclusive chat with IndiaTV, the veteran who holds the record for the most Test wickets by a seamer in history shed light on a number of talking points of the ongoing Test series between India and England.
McGrath chose Virat Kohli as the winner between the first round of tussle between the latter and English spearhead James Anderson.
"I think it's pretty obvious. Virat has got over 200 runs in the first Test. He is gone to the number one position in the world (ICC Test rankings). He had a bit of luck in the first innings where he was dropped. So, you have to make the best of the opportunities and Virat did that. You would probably say 'one up to Virat' but Jimmy Anderson is a quality bowler, especially in England with the Duke ball when it's swinging. He is just as good as anyone going around. I think he will bounce back in the rest of the series and it should be a good battle," McGrath said on the sidelines of fast bowlers' camp organised by Haryana Cricket Association and MRF Pace Foundation.
When asked whether Kohli currently is the best international captain going around, the Aussie chose to reserve his opinion until after the Test series is over.
"When you are performing well, it's pretty easy. Isn't it? We will see how India go in the rest of the series. It's a tough one for them in England. The English team when they perform well is a quality team, especially in their own conditions.
"Virat is the number one batsman. I think in Tests and ODIs, and rightly so because he is a quality player, a class batsman. There are no doubts about that. No obvious weakness. Virat is a top player. He likes the ball coming on and he is up for the battle. Yeah, while captaining he leads from the front and doesn't take a backward step. He is quite aggressive. So, when you are performing well, it seems to happen a lot easy but if Virat gets under pressure, has a few low scores, it would be interesting. But like I said, he is a quality player," predicted McGrath.
Another major topic of discussion these days has been the continuous changes in the playing XI being brought about by the Indian team management. While Cheteshwar Pujara played the Afghanistan Test, he was dropped in favour of KL Rahul for the Edgbaston Test. Earlier this year in South Africa, Rohit Sharma was dropped after the first two Tests in favour of Ajinkya Rahane whose place in the team is again uncertain for Lord's.
When McGrath was asked whether there was a sense of fear in players after getting dropped from the team under Kohli's captaincy, he said: "At the end of the day if you are not performing, there's a chance of getting dropped. So, they will always have pressure on the players. It's up to the individuals how they handle it. It will inspire some to go out there and perform well, and others struggle with it. Once you struggle with pressure, you normally don't stay in the international team for too long."
During the first Test in Edgbaston, apart from Kohli, the rest of India's batting line-up struggled against the moving Dukes ball. While the batsmen continue to be under a lot of pressure after their dismal show, Pidgeon, as he is known in Australian circles defended them by saying that it's not limited to just Indian batting.
"It's probably not so much (with) just the Indian players. I think batsmen from all around the world play well in their own conditions and then don't play well when they tour. I think that's an issue. You see quality players like Virat, Joe Root and Steve Smith will perform well in all conditions. I think that's where a lot of players have to be able to adapt and that's the difference between a good player and a great player.
"Other players are not as great as Virat Kohli. Not at the moment unless and until they go out there and do the business. And that's why Virat is number one. You need batsmen to go out there and perform, scoring runs in partnerships. And you need bowlers to do the job. Obviously, the bowlers did the job in this Test match for both the teams. They created a minimum of 20 opportunities. Batsmen need to find their way too," said the Aussie pace legend, who has 563 wickets in 124 Tests. 
Finally, McGrath also had a piece of advice for the Indian bowlers for the next four Tests: "enjoy the challenge".
"Just enjoy the challenge. Take more wickets than the England team. Lord's is one of the most amazing places to play. It's the home of cricket. It's very special for touring teams. There's a big slope from one side of the ground to the other which does have an impact on the pitch itself. I always loved bowling from the Member's End and I pitched the ball just outside the off stump, some would hold the line and go straight and others would seam down the slope into the stumps. I found that very effective. Obviously, from the other end, it's just opposite. You do have to change your line because of that slope but I think Ishant Sharma has done well there in past. He will be looking forward to getting back there and it's going to be a big challenge for the Indian players," McGrath signed off by saying.
(As told to IndiaTV Sports Correspondent Vaibhav Bhola)