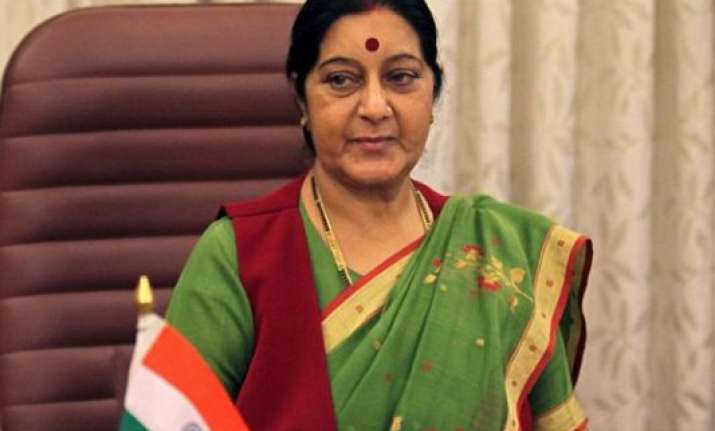 Kalka (Haryana): Seeking electors' mandate in the upcoming Haryana Assembly polls on development plank, Union Minister Sushma Swaraj today said BJP will provide a "clean and good governance" in the state.
"BJP is a party of good leaders and fielded good candidates and will provide clean and good governance in the state," Swaraj said while addressing her first public meeting in Haryana since the announcement of polls.  Mentioning the recently launched Jan Dhan Yojna, she said the BJP's policies and programmes are good.  Reaching out the people of the region that falls in foot of Shivalik hills, she said that its an important election for the BJP.
"Earlier the BJP use to fight polls in Haryana in alliance with other political outfits, but now the party is contesting the elections on its own," she said, seeking peoples' mandate for development of Haryana.
Swaraj said that in the Lok Sabha polls, BJP's mission was 272 plus seats and its 50 plus seats in Haryana elections now.  "We have made our mission possible in Lok Sabha by winning 282 seats of our own and will make it in Assembly elections in Haryana too," she said.
Haryana has 90 Assembly seats.
Referring to BJP's performance in the Lok Sabha polls in Haryana where the party won seven out of eight seats it contested, she said Haryana had given not seven but 12 MPs to Parliament.
Besides seven MPs from Haryana, the other five MPs who belonged to the state include she herself, Gen V K Singh (retd) and Sumedha Singh.
Praising Prime Minister Narendra Modi for giving "due representation" to Haryana in his cabinet, she said "this kind of share to the state was never given earlier by any government."
She said the ministers from the state included she herself, Gen V K Singh (retd), Rao Inderjit Singh and Krishanpal Gujjar.
Talking about her own ministry of External Affairs, Swaraj said "the entire ministry had been given to those who represent Haryana."
"I am a cabinet minister while Rao Inderjit Singh is minister of state in the MEA," she said.  Swaraj, who had returned from the US yesterday, said "wherever I went, foreign secretaries asked me about my home state and I proudly told them it is Haryana. Haryana is now popular world over".
"Modi had given due representation to Haryana by appointing ministers in his cabinet and now it is the turn of the people of state to repay by voting in favour of BJP," she said, adding that, the Prime Minister is well versed with the people of Haryana.
Seeking votes on the plank of development, she assured the people that BJP, if elected, will give a clean and good governance and work for the welfare of the poor.  "No section of the society will be overlooked by the BJP," she said.
Swaraj said that the if the BJP forms its government in the state the old-age pension will be hiked from Rs 1,000 to Rs 2,000, the highest ever in the country.  Besides, the BJP will start free pilgrimage for old by allowing them costless travel in trains on the pattern of the scheme implement in BJP-ruled state of Madhya Pradesh and Chattsigarh.
Youths will be trained in handicraft to make them self employed, she said, adding that, unemployment allowance of Rs 6,000 will be given to 12th pass and Rs 9,000 to BA and MA pass youths in the state.
She said that the strength of women in police force will be doubled and free bus travel facility will made for girl students to pursue their education at distance places in the state.
Destitute widows will be given plots measuring 50 square yards free of cost, she said.
Swaraj said that sports stadiums will be set up in each block and coaches will be employed for enhancing training facility so that sportspersons could get coaching of international standards.
Two existing universities will be made of international standards, she said.
Laws on cow slaughtering will enforced strictly and steps will be taken to double the milk production in the state, she said.
On the lines of AIIMS two institutes will be set up in the state, she said.
Later she left for other places as she had to address three more rallies, including at Sadaura and Gohana.