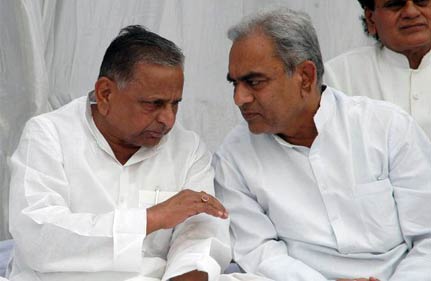 Lucknow, Nov 23: Samajwadi Party today retained Nidhauli Kalal Assembly seat in the recently held by-election winning over the Jankranti Party candidate by over 23,000 votes.
Amit Gaurav won the seat for his party defeating his nearest rival of Kalyan Singh-led Jankranti Party, Virendra Kumar by 23,484 votes, election office sources said.
Congress took the third spot while the BJP fared a poor fourth.
Amit Gaurav is the son of Anil Kumar Singh, the sitting SP MLA, whose death had necessitated the by-election on the seat.
The by-election for the Nidhauli seat was held on November 20.
Kalyan Singh had left no stone unturned to win the by-election which marked the electoral debut of his party, as he is the sitting MP from Etah which includes Nidhauli Kalan Assembly seat, besides his caste vote forming the major vote bank.
Meanwhile, in Lakhimpur where a selection was held along with Nidhauli Kalan, Utakarsh Verma of the SP was leading, sources said.