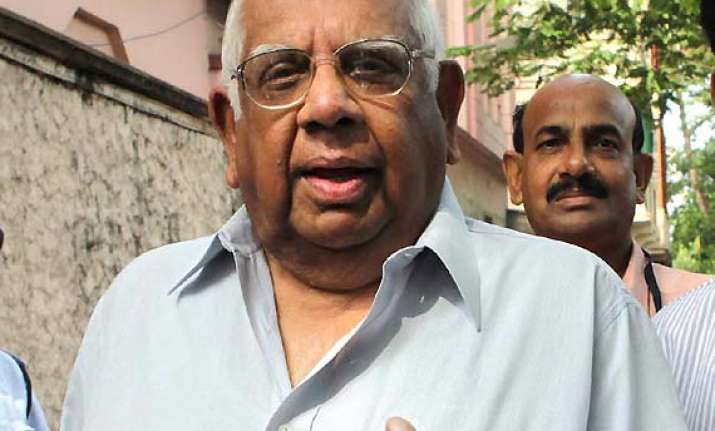 New Delhi/Kolkata, Mar 17: Even as the Dinesh Trivedi controversy refuses to die down, a Rajya Sabha seat could become another bone of contention between Congress and Trinamool amid a buzz that Somnath Chatterjee could make it to the Upper House with Congress and Left support.  

While Trinamool Congress supremo Mamata Banerjee has made it clear that her party will not support Congress nominees in the Rajya Sabha elections, a section in Congress is of the firm view that the party should not leave its claim to the seat.

"I am neither denying it nor confirming it. It's not in my knowledge...it was not discussed," AICC in-charge for West Bengal Shakeel Ahmed told reporters when asked about reports that the 82-year-old former Lok Sabha Speaker could become the joint candidate of Congress and Left for the Rajya Sabha seat in West Bengal.

In the 294-member Assembly, Trinamool Congress has 185 members, Left Front 60, Congress 42, Gorkha Janmukti Morcha 04, SUCI and independents 02. Of the independents, one has already pledged support to Congress.

Of the five Rajya Sabha seats in the state, Trinamool will clearly get three seats with first vote of 50 members required for each seat. Left can get one. Trinamool will be left 35 additional votes left after its three seats, while Left will have 10 more.

Congress feels that it can win one seat as it already has the support of 43 members.

There has been a buzz in media and political circles that former Lok Sabha Speaker Somnath Chatterjee, as an independent candidate, can make it to the Rajya Sabha if Congress and Left decide to vote together.

When contacted by PTI, Chatterjee speaking from Kolkata said, "This is all news to me. I have no information. I do not know anything about it."

Asked specifically whether Congress and Left will have a joint candidate, Ahmed said, "At this stage there is no question of a joint candidate with Left." He also said that Trinamool Congress is a "very strong ally of UPA from West Bengal".

Ahmed at the same time said Chatterjee is an "outstanding Parliamentarian and "Congress has high regard" for him.

Sources said two parties coming to support an independent candidate in Rajya Sabha is not something new.

A S Malihabadi, Arjun Sengupta and General Shankar Roychoudhury had made it to Rajya Sabha with the support of Left and Congress while Md Adeeb from UP had also got support of both Congress and Samajwadi Party.

Sources in the Congress said party President Sonia Gandhi was given a list of half a dozen probables for the one seat, the party could win if it just gets seven additional votes.

Sources said hectic consultations were held among Congress MPs from the state on the issue but the opinions were divided with some viewing that joining hands with Left will give a wrong signal as only months back Congress-Trinamool alliance ousted the Left Front government from West Bengal.

Party sources indicated that a decision on whether to contest the seat or not and on candidature will be taken shortly.

March 19 is the last day for nomination.

Trinamool Congress on the other hand has been maintaining that it had given a seat to the Congress in the earlier election to the Upper House and expected that this time Congress will support it.

From Trinamool's side, all the four ---Union minister of state for shipping and the party's all-India general secretary Mukul Roy and three journalists - Kunal Ghosh, Nadimul Haque and Vivek Gupta have already filed their papers before the Assembly secretary in the presence the Trinamool chief.