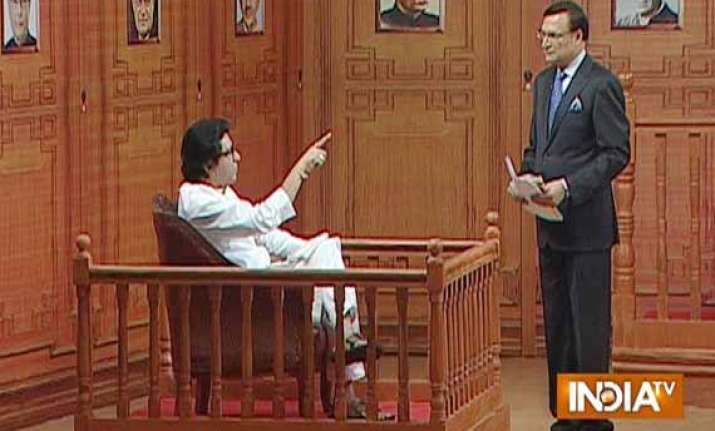 New Delhi: Maharashtra Navnirman Sena chief Raj Thackeray has said, if BJP leader Narendra Modi becomes prime minister, he should first concentrate on developing Bihar, UP and Jharkhand, to stem the influx of people from these states to Maharashtra.
Thackeray was replying to questions from
Rajat Sharma
in the popular India TV show Aap Ki Adalat, to be telecast tonight (Saturday).
The MNS supremo said, much of the crimes taking place in Mumbai and other satellite towns were because of what he called migrants from Bihar and UP.
Raj Thackeray Said: "If Narendra Modi becomes Prime Minister then I'll request him to first dedicate his five years to Bihar, Jharkhand and Uttar Pradesh. And not anywhere else."
Asked why he was always speaking out against migrants from Bihar and UP, Raj Thackeray replied: "Why would I get angry over UP and Bihar? If there are people from these states who are creating problems, then there are also good boys, from good families, who are coming from these states.
"Ask them if Raj Thackeray or his men created any trouble for them? The morcha that was taken out  at Azad Maidan by some Muslims, first attacked police , some female police constable were dragged inside and rest you must be knowing…
" Later on, it was found that these Muslims were not from Maharashtra. Most of them were from Bangladesh. They come via UP and Bihar because if you have to come from Bangladesh then you can't come through Kerala. You'll not see Hindu-Muslim riots taking place  in a region where Maharashtrian Muslims reside."