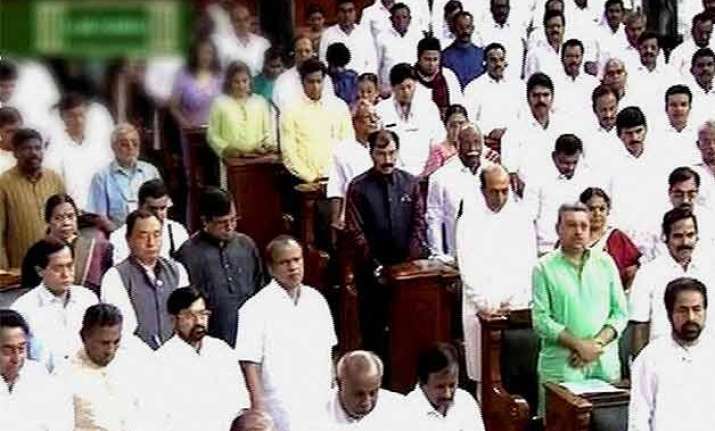 New Delhi: Parliament today paid glowing tributes to former President A P J Abdul Kalam, hailing him as India's "true son" and "real gem" whose contributions will be deeply cherished by the grateful nation.  
Both the Lok Sabha and the Rajya Sabha were adjourned for the day soon after convening and paying tributes to Kalam. The two Houses will have no sitting tomorrow also as a mark of respect to him and to enable the MPs to participate in his last rites in Tamil Nadu.
"In Dr Kalam's death, the country has lost a sagacious statesman, a great scientist and a friend of the under-privileged and a fine human being," the Lok Sabha said in a condolence resolution read out by Speaker Sumitra Mahajan.
She described Kalam as the "real gem of India" who till his last breath, was doing what he loved best, interacting with young India, igniting their minds with scientific temperament and spirit of inquiry.
"Kalam was a noble man of 83 years, with energy and enthusiasm of 38 years and an innocent smile of an 8-year old," Mahajan said about the departed leader who served as the President from between 2002 and 2007.
She said his passing away has indeed left a void but his life will ever remain an inspiration to all. "He has left an indelible imprint upon our national psyche." In the Rajya Sabha, Chairman Hamid Ansari termed Kalam's death as "an irreparable loss to the country."
He said the country has lost a "true son of India and his contributions to the nation, in his capacity as a man of technology, a teacher and a leader will be deeply cherished by a grateful nation."
Members in both Houses stood in silence for a brief while before the proceedings were adjourned for the day.
Noting that Kalam was a unique personality who embodied rare intellectual brilliance and an undying scientific zeal, the Lok Sabha Speaker said he worked his way to become the driving force behind India's space and missile programmes and "came to be known as the 'Missile Man of India'".
He played a pivotal organisational and technical role in India's Pokhran-II nuclear tests in 1998, the first since the original nuclear test by India in 1974, she said.
Ansari, also the Vice President of India, said Kalam was "a guide to India's space and missile programmes and his efforts saw India become a front-ranking power in these spheres ... His life will always remain a source of inspiration to all."
Observing that Kalam's leadership style and vision were not just valued in India but abroad as well, he said the former President "visualised a distinctive profile of India by the year 2020 which included responsive, transparent and corruption-free governance and where the nation is proud of its leadership."
He reposed great faith in the youth of the country and believed that through proper guidance, they will be able to transform India into a developed nation, which is one of his greatest dreams, Ansari said.
He said Kalam's research and educational leadership brought him great laurels and prestige, prompting the government to initiate an advanced missile programme under his directorship.
Kalam was the Chief Executive of the Integrated Guided Missile Development Programme and was instrumental in the development of the Agni and Prithvi Missles.
Kalam also played a pivotal role in India's Pokhran-II nuclear tests in 1998 and piloted India's civilian space programme, military missile development efforts and ballistic missle and launch vehicle technology to the heights which it has reached today.
"He endeared himself to his colleagues and all those who were associated with him and this quality earned him the title 'People's President," the Chairman said.