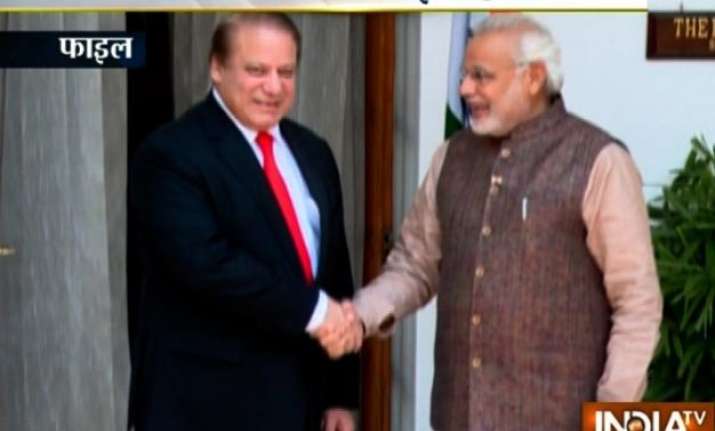 Ufa (Russia): Prime Minister Narendra Modi and his Pakistan counterpart Nawaz Sharif today had their first official meeting since May last year.
The bilateral talks between the sides took place on the sideline of Shanghai Cooperation Organisation (SCO) Summit in Ufa, Russia.
Indian officials said they were expecting a review of overall ties with substantive dialogue between the 2 leaders. The meeting took place on the SCO sidelines at 9.45am IST.
"It is confirmed. PM @narendramodi and PM Nawaz Sharif will have a bilateral meeting in Ufa tomorrow at 9.15 am (9.45 am IST) on sidelines of SCO Summit," External Affairs Ministry spokesman Vikas Swarup had tweeted.
Meanwhile, the two leaders met on Thursday night at a dinner hosted by Russian President Vladimir Putin.
PTI reported that both leaders exchanged pleasantries and chatted briefly when they came face-to-face at a dinner hosted for leaders of five BRICS countries and 10 SCO nations in Ufo.
The brief interaction set the tone for today's formal meeting between them on the sidelines of the SCO.
"Terrorism for India is a major concern," an official said, indicating that the issue could be taken up by Modi at the meeting.
In Islamabad, Pakistan Foreign Office spokesman Qazi Khalilullah said bilateral issues of importance will be discussed in the Modi-Sharif meeting.
"India has proposed a meeting and Pakistan has positively responded to it," the spokesman said.
Modi and Sharif were last together in Kathmandu in November last for the SAARC Summit but they did not have a bilateral meeting because of acrimony between the two countries at that time.