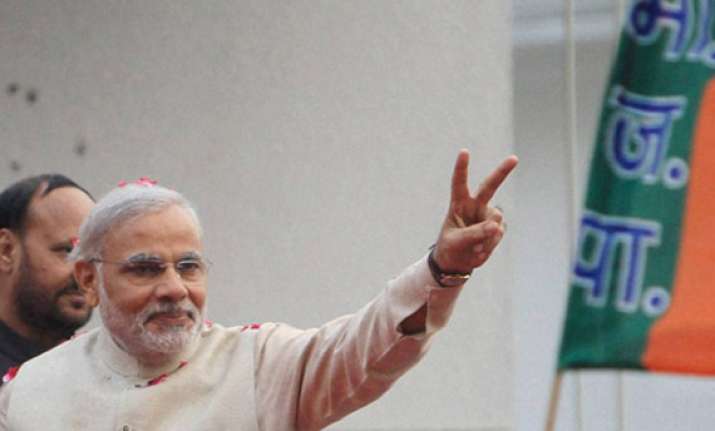 Lucknow, Aug 8: Gujarat Chief Minister and head of the BJP's campaign committee for the 2014 Lok Sabha polls Narendra Modi will interact with workers of the Uttar Pradesh unit in Vrindavan in September.
Uttar Pradesh BJP president Laxmikant Bajpayi told IANS that Modi will address and interact with 15,000 workers of the party at the state executive meet in Vrindavan Sep 25, the death anniversary of Deen Dayal Upadhyaya, the founder and idealogue of BJP parent Jana Sangh.
BJP Rajnath Singh will also attend the meeting, in which BJP workers will be trained in booth management and other strategies for the elections, party office bearers said.
"Apart from conventional political strategies, the workers would also be trained in modern technologies and platforms like social media," party leaders said.
Bajpayi said the BJP was inclined to keep up the momentum and convert the groundswell of anger against the Congress-led UPA government into pro-BJP votes.
For this, several committees have been formed and state BJP vice president Ashok Kataria has been entrusted with coordinating issues concerning the public. State leaders Rajbeer Singh has been tasked to rake up issues concerning farmers and villages, while corruption charges against the union and state governments would be handled by Shiv Pratap Shukla. Daya Shankar Singh will handle the youth wing and Haridwar Dubey will c-ordinate with women cells.