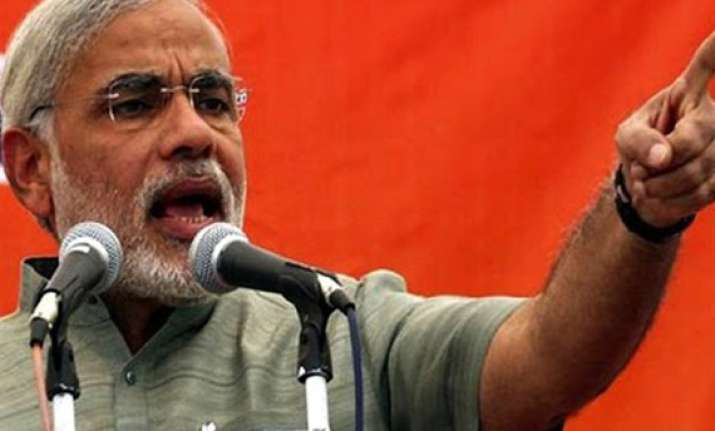 Ahmedabad/New Delhi: Targeting Prime Minister Manmohan Singh, Gujarat Chief Minister Narendra Modi Wednesday said the people would compare his Independence Day speech that would be full of asha (hope) with that of the prime minister, which he said would reflect nirasha (despair). His statement was criticized by Congress party leaders as belittling the prime minister of the country.
Modi, who is widely expected to be named the Bharatiya Janata Party (BJP)'s prime ministerial candidate for the 2014 general elections, said in Bhuj that when he unfurls the tricolour there on Thursday "the message will also go to Lal Qila. The nation will want to know what was said there and what is said here (in Bhuj)."
"On one hand, there will be a series of promises, while on the other there will be the account of work done. On one side, there will be despair (nirasha) and on the other there will be hope (asha)," he said, without directly naming the prime minister.
Information and Broadcasting Minister Manish Tewari said Modi should withdraw his remarks as he was targetting the prime minister of the country.
"When the prime minister addresses the nation from the ramparts of Lal Qila, it is not as some political party leader but as the prime minister of the country. You can't talk about the Independence Day address in such a cavalier manner. It's not just the people in India who listen to it but also people around the world who very carefully listen to what the PM has to say," Tewari said.
Union Minister of State for Parliamentary Affairs Rajeev Shukla said the Gujarat chief minister's remarks reflected his "arrogance".
"I keep saying from day one that he is full of arrogance, full of himself. If this kind of a person gets higher in politics what he will do to the country one can understand," Shukla said in Delhi.
Union Law Minister Kapil Sibal too attacked Modi, saying that every time the Gujarat chief minister makes a speech "there are some false figures, false facts which he knows to be false".