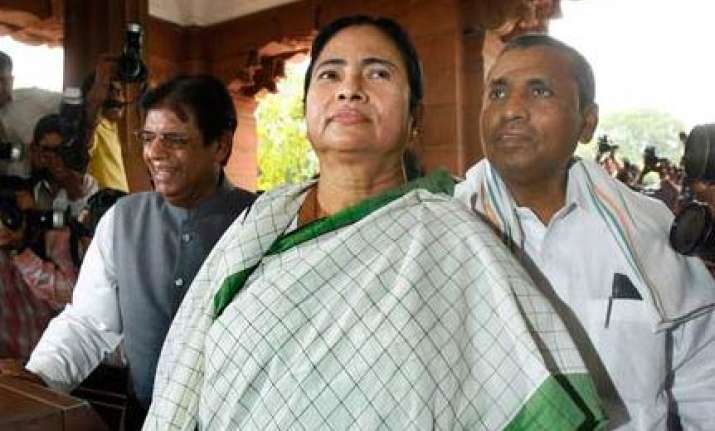 Kolkata, Nov 17: Trinamool Congress chief Mamata Banerjee today pooh-poohed the Left Front's suggestion for returning 100 acres in Tata Motors' abandoned land at Singur to help in restarting an industry there and alleged that the state government was "land scam-tainted".
"The government is absolutely corrupt, land scam-tainted and blacklisted," Banerjee told reporters here.
She turned down the renewed proposal by Industry Minister Nirupam Sen that she might accept Chief Minister Buddhadeb Bhattacharjee's offer to return 100 acres of land to unwilling farmers in Singur for the small car factory.
The state government today said it was possible to set up industry in Singur if Trinamool responded positively to the state housing minister Gautam Deb's offer to return 11 per cent of acquired land at Rajarhat township if the Mamata Banerjee-led party allowed the Tatas to set up their second small car unit at the site.
On Rajarhat, she said "they (state government) will have to explain why this land scandal has happened as it cannot deny its responsibility. Rajarhat land scam is big and we demand a full list of land givers or those whose land was grabbed."
"We do not want to listen anything from this land scam-tainted government which has pushed the state's economy to the brink of collapse during its 33-year rule," she said.
The Trinamool chief, who declined to react to Deb's proposal of returning 11 per cent land at Rajarhat and 10 per cent in Singur to farmers to pave the way for setting up the Tata car factory at Singur, said "300 acres were given from the minister's quota without notification in violation of Supreme Court order."
The Trinamool chief said prime land was taken at throw-away prices from farmers who were paid Rs 3,000 to Rs 6,000 per cottah of land.
"This land was sold sometime at Rs 20 lakh, or Rs 30 lakh or even Rs 40 lakh at Rajarhat," she said.
Even the Director of the Housing Infrastructure Development Corporation (HIDCO), of which the housing minister is the chairman, had bought a piece of land at a cost of Rs 10 lakh and sold it at Rs 40 lakh, she alleged.
Banerjee charged the government was "plagued with economic and land scams when the state had been carrying a debt of Rs 1.94 lakh crore."
"The people don't know where the state is proceeding with the economic situation coming to such a pass that none will purchase anything from West Bengal. Economic situation in the state is disastrous," Banerjee said.
"Mass mandate in 2011 will remove the Left Front, ending its 35 years of rule in the state and this will be its last term," she said.
Refusing to reply to housing minister's suggestion on Singur, she said "ask me questions pertaining to the chief minister and other party leaders."
"Don't put me questions pertaining to 'Z' grade leaders. There should be demarcation between 'A', 'B', 'C' and 'D' grades. PTI