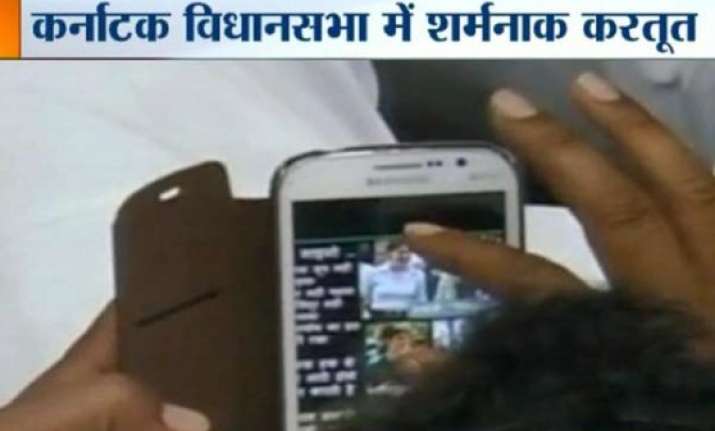 Bengaluru: In yet another incident of 'inappropriate' behaviour of MLAs inside the Karnataka Legislative Assembly, two BJP MLAs --  Prabhu Chavan from Aurad and UB Banakar from Hirekerur in Haveri -- were caught viewing and zooming in on a photo of Priyanka Gandhi Vadra and also playing game on smartphone.
While Chavan was caught on camera looking at Priyanka's photo during a debate on sugarcane pricing, the Hirekerur MLA was found playing Candy Crush Saga game on his mobile.
When the Assembly proceedings began, Chavan walked in carrying a basket of rejected ration cards on his head for which he received praise from his colleagues. But later, he was caught watching photos of Prime Minister Narendra Modi, actor Riteish Deshmukh, former Prime Minister Rajiv Gandhi and Congress chief Sonia Gandhi. The legislator courted controversy soon after he was caught watching the zoomed in photo of Sonia's daughter Priyanka Gandhi.
The MLA did not realise that his act would be caught on camera and he will land in an 'unwanted' controversy.
He later opted to clarify that he zoomed into the picture to read the slogan below and there was nothing objectionable.
"I was watching the photographs of my family members... suddenly I start receiving series of messages. I opened the picture of Narendra Modi and read the slogan; I also opened the picture of Priyanka Gandhi and read the slogan. I agree that I shouldn't  have done something like this. I agree it is my mistake, I should not have used the mobile inside the Assembly, You can check my handset, there is nothing vulgar in it," he said.
On the other hand, Banakar was caught on camera playing game on his mobile phone.
The footage of both the MLAs was captured by mediapersons from the elevated media gallery.
This has come as a huge embracement for the BJP which was voted out of power in the last assembly election in 2013.
Earlier, three BJP ministers -- Laxman Savadi, CC Patil and Krishna Palemar -- in the erstwhile BS Yeddyurappa government were sacked for watching a porn clip on a mobile phone inside the Assembly.