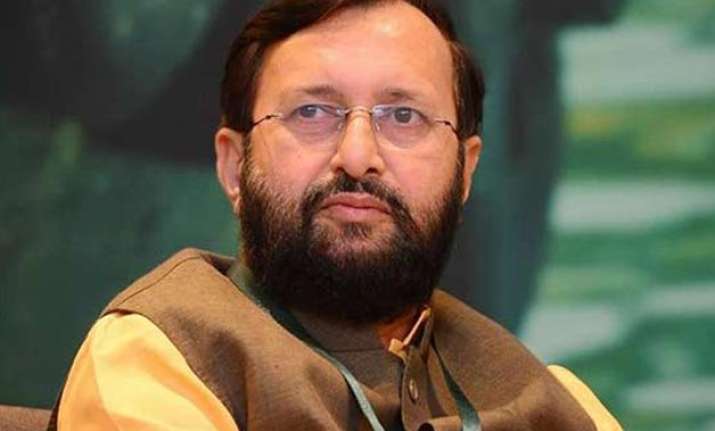 New Delhi:  Environment Minister Prakash Javadekar today said "misgivings" about implementation of Kasturirangan committee report on Western Ghats have to be "done away" with and a call on it will be taken by August end.
Javadekar said that barring commercial mining and polluting industries there will no restriction on doing business in Western Ghats and there will be no threat to livelihood of locals.
The Union minister chaired a meeting today with environment ministers and officials of six states to review the progress of physical demarcation of Ecologically Sensitive Area (ESA) in Western Ghats region.
He said that there was no danger to livelihood nor there would be any restriction on businesses, growth and developmental projects in the region.
"There is sometimes misgiving on the issue of ESA of Kasturirangan committee report of Western Ghats. There is no danger to livlihood, no restriction on businesses, growth and developmental projects. The main restriction is on commercial mining and polluting industries," Javadekar told reporters.
Javadekar said that majority of people of around 4,000 villages falling under the region have told state officials, who went there to conduct physical assessment, that they do not want polluting industries nor commercial mining in their areas.
"They (states) have gone to villages, have got public opinions as well as scientific studies. Some states have submited the details, some will submit by this month end. We will do the homework and due diligence. By the end of August, we will definately announce some decision, which is pro-environment and pro-people," Javadekar said.
He said that his Ministry will protect environment but at the same time allow development. It will preserve the sanctity of western ghats with its all ecology but at the same time will allow its people living there to grow rightfully on a sustainable growth path, he said.
The 10-member high-level working group (HLWG), headed by Kasturirangan, was constituted to examine the Western Ghats Ecology Expert Panel report (WGEEP) prepared under the leadership of eminent ecologist Madhav Gadgil and had recommended declaration of Ecologically Sensitive Area in Western Ghats.
"The fears are misplaced. The misgivings should be done away with," the Minister said.
Protests were witnessed in some states over apprehension that the implementation of the report might lead to largescale displacement of settler farmers.