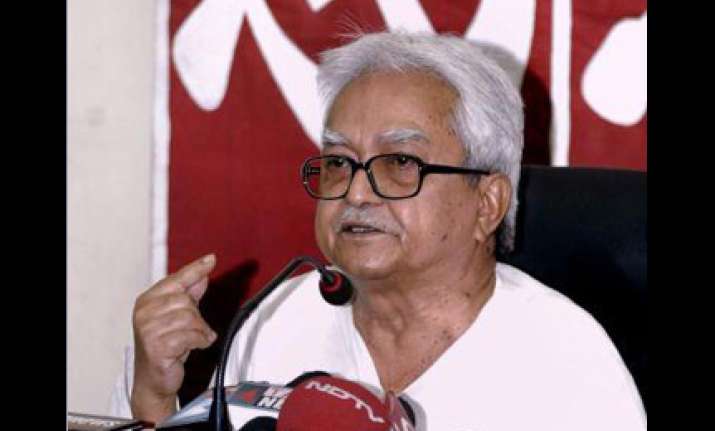 Kolkata: Rubbishing Trinamool Congress chief Mamata Banerjee's allegation that there was a conspiracy to eliminate her, the CPI(M) on Monday  described it as a diversionary tactic to target Left leaders.  
"Levelling such charges against us is a sinister plot to eliminate some Left leaders and workers in the state," CPI(M) politburo member and state secretary Biman Bose told a party rally at Dharmatolla here.  
Without naming Banerjee, Bose said that he had read newspaper reports about her allegation. "This is nothing but a story to mislead and divert the people's attention," he said.
Recounting the murder of Forward Bloc veteran Hemanta Basu here in the early 70s, Bose said that the CPI(M) was falsely implicated in the case, but inquiries later revealed otherwise.
Urging Left parties to 'expose' the party and strengthen Left unity, he accused the Trinamool Congress of joining hands with the Maoists to kill 'hundreds of CPI(M) workers' in West Midnapore. He also alleged that the August 9 meeting at Lalgarh by the Trinamool was planned to encourage Maoists cornered in West Midnapore district.  
Alleging that democracy was in peril in the state, Bose said that Trinamool workers had vandalised the CPI(M) office at Panskura yesterday, trampled a portrait of party founder Muzaffar Ahmed and created panic. "1,600 false cases have been registered against CPI(M) workers by the Trinamool Congress," he said.  
He also accused the party of supporting the fuel price hike and skipping a crucial cabinet meeting to discuss the issue, even though it was a UPA ally.  
"Absence at the cabinet meeting amounts to supporting the decision to raise prices of fuel and Trinamool Congress can be accused of supporting the Centre's anti-people policy," he alleged. PTI