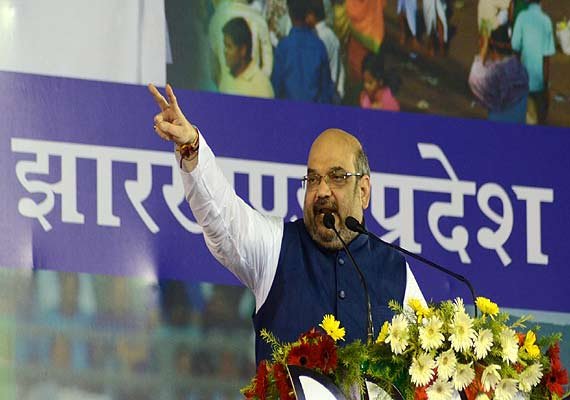 Ormanjhi (Jharkhand):  BJP president Amit Shah today said political instability of Jharkhand in the past 14 years was like a "bad dream" and blamed the Congress for triggering fall of governments.
"It was a bad dream for Jharkhand from 2000 to 2014.  There have been nine governments, besides imposition of President's rule three times, leaving the state with no stable government. Arjun Munda was CM three times, but the Congress conspired in pulling down his governments," Shah said.
Addressing a poll meeting for BJP candidate from Khijiri assembly constituency here, 22 km from Ranchi, Shah said as the rise and fall of governments continued, the Congress made independent MLA Madhu Koda chief minister.  Shah said Koda went to jail on corruption charges in "collusion" with the Congress.
Appealing to vote in majority for BJP to help Jharkhand join the Prime Minister Narendra Modi's "Vikas Yatra", Shah alleged that nothing could happen through the "circus of 'Guruji', (as JMM supremo Shibu Soren is known), Lalu Prasad and Nitish Kumar".
"So, usher in a new dawn for Jharkhand with a stable government," Shah called upon the people.  Referring to the new coal policy of the Centre that would give the state Rs 2.5 lakh crore as royalty, Shah said, "If you hand over this money to the father and son (Soren and Chief Minister Hemant Soren) they will loot. So throw them out (of power), and give the BJP chance to develop the state."