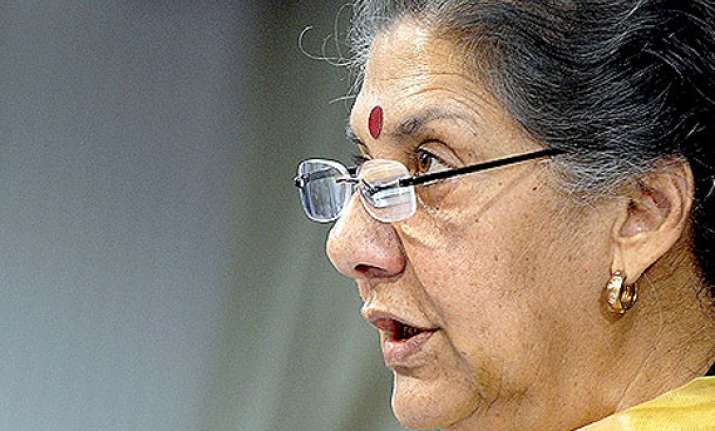 New Delhi, Jun 14: Congress today attacked TMC leader and West Bengal Chief Minister Mamata Banerjee accusing her of showing lack of courtesy towards the Prime Minister by dragging his name in the Presidential race. 
Congress leader and Information and Broadcasting Minister Ambika Soni said party chief Sonia Gandhi was still working towards evolving a consensus over the name of UPA's Presidential candidate.
"Disclosing three names including that of the Prime Minister of India, I think this is something which does not make any political or ethical sense.... Never ever there has been an instance where a sitting PM's name is being branded like this.
"It is a constitutional post, he heads the government and the country and one desists from such lack of courtesy...  People of our country would wonder why such tactics are being adopted by political parties," she told reporters.  The minister was commenting on Banerjee mentioning three names including that of Prime Minister Manmohan Singh for the Presidential race.
Soni said Sonia Gandhi was continuing discussions on the issue with leaders from the party and alliance partners. "She is going ahead with the consensus she is trying to evolve over a single name."
Asked if the Congress chief would hold another round of consultations with alliance partners, she said, "Consultations are an ongoing process. She has been empowered by the UPA to do this whether it takes two or three rounds or as long as she deems it necessary or important to have a single name with maximum support emerging."