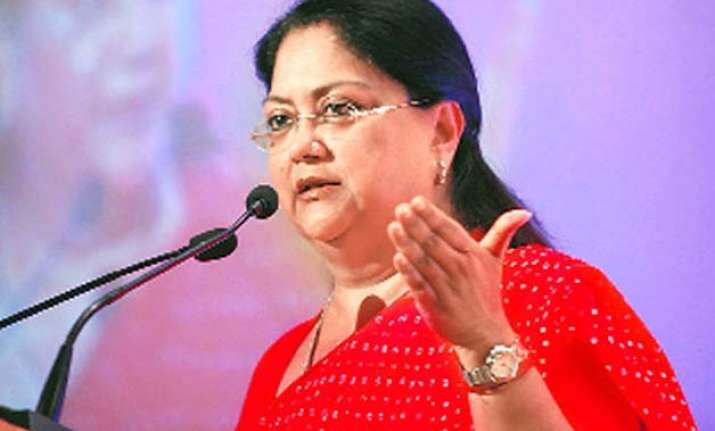 New Delhi: Congress today stepped up attack on Rajasthan Chief Minister Vasundhara Raje over an alleged Rs 45,000 crore mines allocation scam, as it sought CAG and CVC's intervention and also a Supreme Court-monitored CBI probe into the "massive bungling".
Alleging massive scam into the allocation of 653 mines "without auction" by the Raje government, the party sought her sacking.
Congress also said that the inciden t has once again "unmasked the double face" of BJP on the issue of corruption and questioned the "silence" of Prime Minister Narendra Modi on it.
A delegation of Congress comprising of former Rajasthan Chief Minister Ashok Gehlot, PCC chief Sachin Pilot, CLP leader Rameshwar Dudhi and AICC Communication department in-charge Randeep Singh Surjewala today met the Central Vigilance Commissioner and the Comptroller and Auditor General and handed over separate memoranda in this regard.
The leaders alleged that one lakh bighas of land with mineral value of up to Rs 2 lakh crore was given away without auction as part of the allocation of 653 mines.
They also alleged that the state government wanted to "hush up" the matter by laying the entire blame on the door of the state mining secretary Ashok Singhvi, who was arrested in the case.
"No single officer could have been able to allocate 653 mines on his own. It happened because Rajasthan government wanted to allocate mines in a hurry before Union government could issue a gazettee on the amended MMDR Act 1957, which made the auction process necessary for mine allocation.
"Centre had issued a circular on October 30 last year to states asking them not to issue any mining license till the amended MMDR Act comes into practice. But Rajasthan government, in a hurry, allocated 653 mines after October," the Congress leaders said addressing a press conference at AICC headquarters here.
In the petition to CAG, they requested the audit watchdog to conduct a special and forensic audit so that truth is told to the people of Rajasthan in a comprehensive and transparent manner.
In anther petition to CVC, they requested a thorough probe into the "massive bungling" of the state's resources, alleging that the state administration wrongfully allocated mining areas after October 30 last year in a hurried and abrupt manner and distributed lakhs of crore rupees worth country's natural resources to their "favoured" persons and entities.