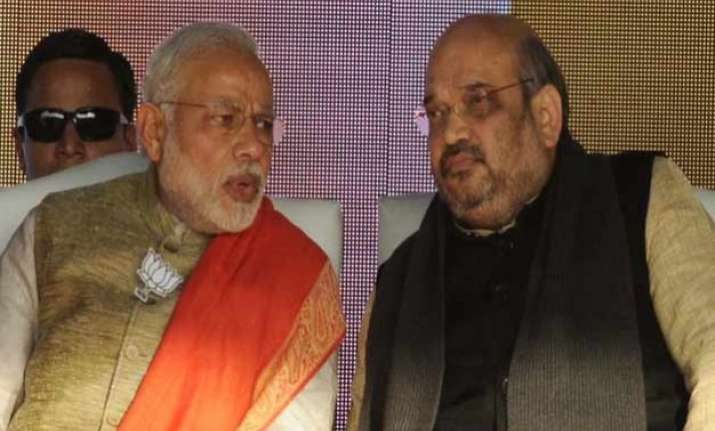 New Delhi: Top BJP leaders on Sunday met at Prime Minister Narendra Modi's residence reportedly to discuss strategy for the upcoming monsoon session of Parliament as Congress said that it was ready to support government's key bills if PM removed scam-accused ministers.
With the opposition all set to attack the government on issues like Vyapam scam and Lalit Modi row, the NDA managers are gearing up to counter the onslaught.
The BJP has decided against being defensive over the controversies related to Sushma Swaraj, Vasundhara Raje and Shivraj Singh Chouhan and would brazen it out in Parliament.
Rajasthan chief minister Vasundhara Raje and Madhya Pradesh chief minister Shivraj Singh Chouhan were in Delhi on Sunday to be a part of BJP's strategy sessions.
Earlier in the day, BJP chief Amit Shah held strategy meetings with various party colleagues, including union ministers Arun Jaitley, Swaraj, Smriti Irani, Ravi Shankar Prasad and Piyush Goyal as well as party spokespersons during which Raje, the chief minister of Rajasthan, was also present.
Making it evident that there will be no resignations, the meeting discussed how to counter the opposition attack in Parliament during the session beginning on Tuesday and harmonising of the response of the government and the party on these issues, sources said.
Also Read : BJP decides to brazen it out over Raje, Sushma, Chouhan issues
Meanwhile, Congress on Sunday asked Prime Minister Narendra Modi to remove Sushma Swaraj, Vasundhara Raje and Shivraj Singh Chouhan if he was interested in running the monsoon session of Parliament smoothly.
Leader of opposition in Rajya Sabha Ghulam Nabi Azad said that the running of the Parliament and passage of important bills during the monsoon session will be "more easy" if the BJP takes action against these leaders while it will also help BJP in "correcting" its image which has taken a hit due to the scams.
"The minimum action is removal all those, particularly the three, who are involved in Lalitgate, including Rajasthan chief Minister, other MP and Union Minister and Madhya Pradesh chief minister and two ministers of Maharasthra," Azad told reporters when asked what is the minimum action by the Prime Minister which will satisfy his party.
I am hopeful that when the Parliament session starts day after, Prime Minister will start by saying that those involved or those on whom charges have been levelled in Lalitgate as well as Madhya Pradesh Chief Minister under whose leadership dozens of witnesses have been killed and thousands have got degrees in such a manner, he (PM) will announce their resignation," he said.