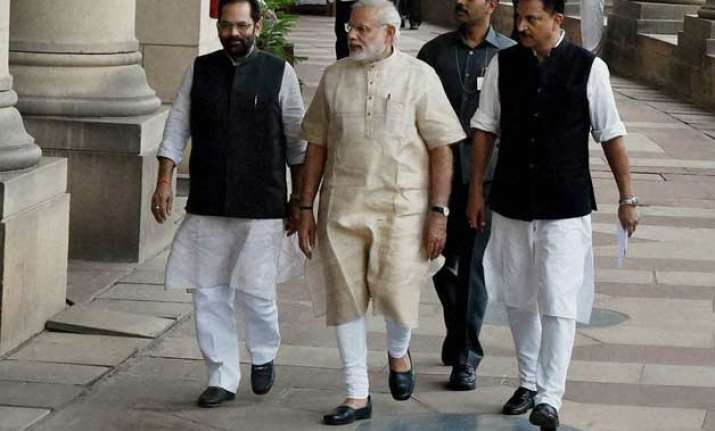 New Delhi:   Setting the stage for confrontation in Parliament, an all-party meeting called here on the eve of the Monsoon session today ended in a deadlock over controversies related to Lalit Modi and Vyapam scam even as Prime Minister Narendra Modi offered to discuss all issues.
The government ruled out any resignations.
"There is no question of accepting ultimatum by anybody. From where did the question of resignation arise? Nobody can dictate terms to the government. From Government side, no Union Minister has done anything illegal or immoral," Parliamentary Affairs Minister M Venkaiah Naidu said.
He was responding to Leader of Opposition Ghulam Nabi Azad's remarks that if Modi was interested in running the Monsoon session of Parliament smoothly, he should remove External Affairs Minister Sushma Swaraj, Rajasthan Chief Minister Vasundhara Raje and Madhya Pradesh Chief Minister Shivraj Singh Chouhan.
The Prime Minister chose the occasion to remind parties that smooth running of Parliament is a "shared responsibility" though the government has to take initiative for it.
He appealed to them to utilise Parliament time for discussing all issues.
On the Land bill, the Prime Minister expressed agreement with the remarks by Ram Gopal Yadav that since there is no consensus on the issue, both government and opposition should make some adjustments to resolve the issue.
Congress was, however, somewhat isolated at the meeting called by Naidu on its stand of not allowing Parliament to function if Rajasthan Chief Minister Vasundhara Raje did not resign in connection with Lalit Modi row and Madhya Pradesh Chief Minister Shivraj Singh Chouhan did not quit over Vyapam scam.
A number of parties felt a washout of Parliament is not a solution.
"This is not correct. Parliament will run but government must allow discussion," JD(U) President Sharad Yadav said when asked about the Congress stand.
Samajwadi Party leader Ramgopal Yadav was skeptical about the smooth functioning of Parliament. "I do not think this will be resolved. Weather seems bad from now itself."
Naidu said that 29 opposition parties did not back the Congress stand on not allowing the House to function.
Quoting Ramgopal Yadav, Naidu said "it is time that we should move forward on the land bill issue, incorporating suggestions from all sides. We should move positively on this issue."
He also told the opposition leaders that Swaraj will be giving a statement on the Lalit Modi row in the House.
Leader of Opposition Ghulam Nabi Azad, however, insisted that the resignation of ministers should take place for smooth running of the House in Monsoon session and accused the government of having a "thick skin" of issues of corruption.
Condemning the trail of deaths in Vyapam scam, Azad wondered does the government think it was being done "by ISI of Pakistan, or some terrorists or naxals here".
Congress also demanded a statement from the Prime Minister in Parliament on Lalit Modi controversy and Vyapam scam asking the BJP to walk the talk on corruption in light of promises it had made in the run up to the Lok Sabha polls last year.
The party had yesterday firmly put the onus on government for smooth running of Parliament by demanding a "minimum action" in removal of Swaraj, Raje and Chouhan.
Speaking separately, Congress spokesperson Ajoy Kumar said the ministers must go.
Though the government expressed happiness at "most parties not endorsing" Congress' call for disrupting Parliament, indications were not very positive for it.
"Whenever such a meeting is called, everybody talks about the smooth functioning of Parliament. Everybody says that the House will run but exactly the opposite happens in practice. I don't think it will be all right in the House," the SP leader said.
Pointing towards rainy clouds, Yadav said in a tongue in cheek remark, "it is Monsoon session and the weather appears bad from now itself."
Asked about Modi's remarks expressing agreement with his views on land bill, he said that Samajwadi Party was not in agreement with the amendments done in the land bill.
"If the government withdraws them, then something may work out. Right now they have already made a number of amendments on which our party cannot agree."
JD(U) President Sharad Yadav said while Parliament should run, it depends upon day-to-day confabulations between the government and the Opposition. He said among other issues, JD(U) would raise Vyapam and Lalit Modi row.
Rejecting NDA's land bill, he said, "we do not accept it. Land bill is against the nation's interests. All parties in Parliament will be united on this issue."
Making a brief appearance at the meeting called by Naidu, the Prime Minister said all political parties should move forward collectively on issues discussed in the last session while keeping the country's interest as paramount in mind.