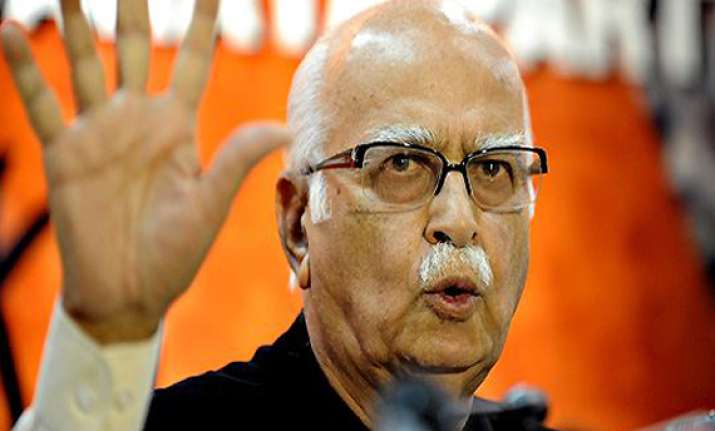 Guwahati, Oct 20: BJP leader L K Advani today hit back at Prime Minister Manmohan Singh for asking him to avoid using harsh words, saying he spoke up against the government only when his colleagues were arrested for upholding democracy.

"The prime minister says I use harsh words. I do not use harsh words, but only speak out against the government when my colleagues are arrested for upholding democracy and whistle blowers are sent to jail," he told a public rally here as part of his Jan Chetna Yatra.

He was reacting to Singh's remark yesterday that Advani's attacks appeared "intemperate" and the prime minister's suggestion to him to "avoid harsh words" in his criticism. 

Advani alleged, "This government is unfortunately weak.  All over the world the prime minister has the last word. But here in India the buck stops at 10 Janpath (UPA president Sonia Gandhi's official residence) and not at 7 Race Course (PM's official residence)."

He demanded a white paper on action the government has taken for bringing back black money stashed away in Swiss banks.

"Government only says that action is being taken. We have heard that the government has given a list to the Income Tax department to find out quietly about those possessing black money. Why is it being done secretly ?" Advani said. 

"I demand that the Government of India immediately come out with a white paper to say what action has been taken to bring back black money."

"It has been estimated by think tank Global Financial Integrity that Rs 25 lakh crore black money from India is in Swiss banks. If this money is brought back to India and used for village development it will work wonders for rural India," he said.

"Switzerland has just passed a bill—'Restitution of Illicit Assets Act', 2011-- to return the illicit money kept in banks there. But no action has been taken by the government here," Advani alleged.

Earlier in Itanagar, Advani said, scams dogging the UPA government was tarnishing India's image abroad, but the "indecisiveness" of the ruling Congress in taking steps against corruption has resulted in "misrule and price rise". 

"The CWG, 2G spectrum, Mumbai Adarsh Housing scam involving defence land are among eight major scams which have been tarnishing the hard-earned image of India globally," he said.

The BJP leader said after the economic meltdown, western countries like Germany, USA and France had pressurised Switzerland to disclose the identities of depositors through the UN Convention Against Corruption which led the Swiss government to open up in 2009.

"I was the first to write a letter to Prime Minister Manmohan Singh to avail the opportunity and also pressurise Switzerland to get back Rs 25 lakh crore stashed in banks there as assessed by party's four-member task force, but the UPA government took no step," he said. 

Speaking on China laying claims on Arunachal Pradesh, Advani said the state was an "integral part of India and there could not be any compromise on the issue".  He said the BJP's stand was conveyed to Chinese President Hu Jintao during his visit to New Delhi.

"Today's programme coincides with the Chinese aggression on October 20, 1962 amidst the then Indian government's 'Hindi-Chini bhai bhai' policy which had left the then Prime Minister Jawaharlal Nehru devastated and shocked," he said.  "Since the sudden Chinese attack, it has been BJP's avowed policy to give special treatment to all Arunachal issues."

Arunachalees are patriots and by adopting Hindi as their lingua-franca they have proven not only their adaptability, but they are also a true picture of unity in diversity, the BJP leader added.