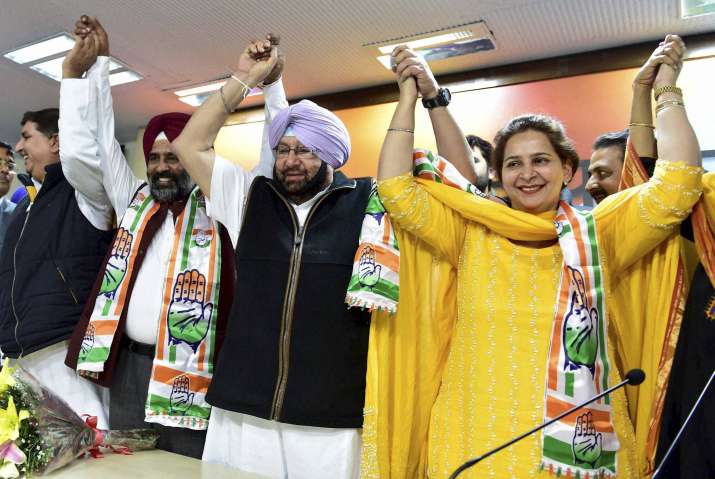 Punjab Congress state chief Amarinder Singh today said that cricketer-turned-politician Navjot Singh Sidhu met him and "gave an impression he is inclined to support our party". 
Sidhu is likely to join the party and assume a new role later this month after the party declares its candidates, the sources said. 
Congress today also got a shot in its arm with two legislators from ruling Shiromani Akali Dal Mahesh Inder Singh and Rajwinder Kaur Bhagike joining the party in the presence of the PCC chief, giving a major jolt to the ruling Akali Dal in poll-bound Punjab. 
Amarinder Singh, a former Chief Minister, said the party's list of candidates for the 2017 assembly elections will be finalsed by December 8, and announced on December 9 or 10. 
Confirming the meeting with Sidhu, Amarinder said the former cricketer was inclined to support the Congress and would soon make an announcement regarding his plan. 
"I can tell you that I have met him. I hope very soon he will be making his announcement. I found him in a very positive frame of mind. I hope it will be a positive decision," Amarinder said, without revealing when the meeting took place. 
Asked specifically if Sidhu will be formally joining the Congress or not, the PCC chief said, "I think he will announce it himself. Let's wait for the announcement in a few days time. But the impression I got, without any commitment from his side, is that he was inclined to support us." 
Sidhu's entry into Congress has been speculated for a long time now. His wife Navjot Kaur joined the party recently, giving ample indications that he would also come on board. 
Amarinder Singh said Sidhu told him his family had supported the Congress in the past and that his father was a district Congress President and remained an Advocate General during the Congress rule in the state. 
The former Punjab Chief Minister said he does not think that Sidhu is interested in contesting the Amritsar Lok Sabha seat and is likely to campaign for the party.  
"He just has to make up his mind whether he has to carry on with his work or whether he wants to actively join politics. The way he is talking, I feel he would like to campaign for the Congress party, but that he would announce himself," he said.  
Sidhu was earlier in talks with AAP but it did not materialise leading to a split in his recently formed outfit Awaaz-E-Punjab.  
Navjot Singh Sidhu had earlier represented Amritsar constituency in the Lok Sabha. Amarinder Singh won the seat in the 2014 general elections by defeating the present Union Finance Minister Arun Jaitley, but resigned from the Lok Sabha membership on November 11 in the wake of the Supreme Court verdict on a Presidential Reference on the Sutlej-Yamuna Link Canal. 
Navjot Singh Sidhu's wife Navjot Kaur Sidhu, who represented Amritsar East constituency in the Punjab assembly and is a former Chief Parliamentary Secretary, joined the Congress on November 28 along with Akali Dal's Jalandhar Cantt legislator Pargat Singh.
Navjot Kaur earlier resigned from the Bharatiya Janata Party on October 8. 
Asked if Navjot Singh Sidhu will contest the assembly elections, the Punjab Congress President said: "If he is not fighting parliamentary elections, why should he fight the assembly ones? I don't think he is interested... his wife will fight." 
"If he wishes to contest, I will welcome that. I'll campaign for him. Why should I oppose," Amarinder Singh said. 
Asked if Congress Vice President Rahul Gandhi's much-awaited elevation as party President will help, the Punjab Congress chief said: "Of course. Why is the Bharatiya Janata Party attacking him every day? Because they are nervous about his emergence (as the Congress chief). Let him come. It will certainly help."