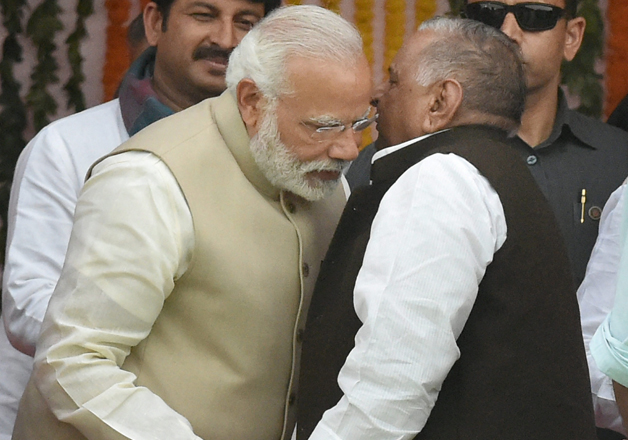 The attendance of Samajwadi Party patriarch Mulayam Singh Yadav and his son Akhilesh Yadav at the main dais during the swearing-in ceremony of Yogi Adityanath as the new Uttar Pradesh Chief Minister in Lucknow on Sunday grabbed a whole lot of attention. 
After the 90-minute long event, the father-son duo were seen exchanging pleasantries with Prime Minister Narendra Modi separately. Reflecting warmth, Modi shook hands with Akhilesh and patted him on his shoulder. He also held the hands of Mulayam.
However, what made headlines the next day was not just the ceremony but a photograph of Mulayam appearing to be whispering something into the Prime Minister's ear. 
It so happened that just when the Prime Minister was about to leave the dais, Mulayam walked up to him from behind hand and grabbed his hands in a vice-like grip, stopping him from going off stage. At this moment, Mulayam was seen whispering something in his ears.
This display of affection and camaraderie between the two political rivals raised many an eyebrow, though everybody wanted to know what exactly Mulayam told the Prime Minister.
Now, a report in The Telegraph cites a senior BJP leader who was standing close to them as saying that he had overheard snatches of the conversation.
The leader said that Mulayam mentioned his son in the conversation, asking the PM to teach politics to Akhilesh.
 

"Thoda Akhilesh ka khayal rakhiye. Inko sikhaiye (Please take care of Akhilesh. Teach him please)," these were the SP patriarch's words, according to the daily.

 
In his rallies, Modi had ridiculed the opposition alliance of SP and Congress, saying they together stood for SCAM (Samajwadi, Congress and Mayawati). Not to be outdone, Akhilesh came out with his own take on SCAM, saying it stood for Save Country from Amit (Shah) and Modi. 
Akhilesh's remarks asking megastar Amitabh Bachchan not to endorse 'donkeys of Gujarat' also left the BJP fuming, with Modi hitting back at the CM.