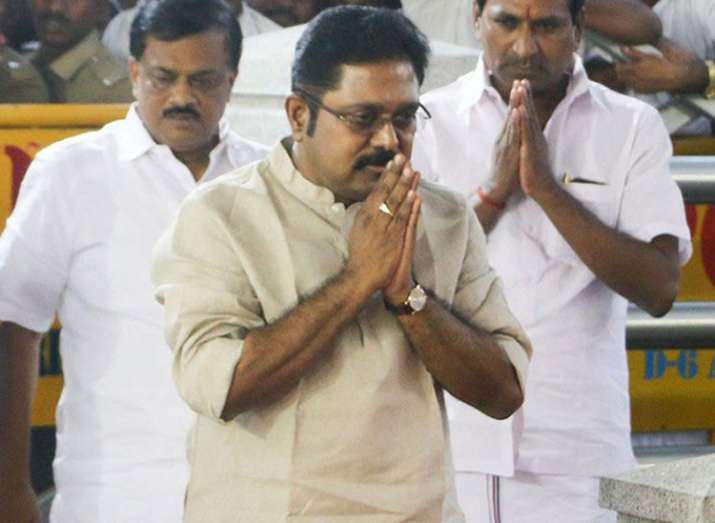 Having usurped the reigns of the AIADMK after the demise of former Tamil Nadu Chief Minister J Jayalalithaa, her former aide and now the supremo of the party VK Sasikala has nominated her nephew TTV Dinakaran as the party's candidate from the RK Nagar previously held by Amma since 2015.
The AIADMK on Wednesday said it had nominated TTV Dinakaran, party's Deputy General Secretary and the nephew of VK Sasikala, as its candidate for the RK Nagar bypoll scheduled for April 12. Election to the constituency here was necessitated by the death of Jayalalithaa in December last. 
Jayalalithaa's niece Deepa Jayakumar is also contesting from the seat and has alleged that she was being harassed to prevent her from contesting the bypoll.
The decision to field Dinakaran was taken at the AIADMK parliamentary board meeting, which is headed by its General Secretary Sasikala, according to a party statement here. 
"I have been selected as candidate of AIADMK, will file nomination on March 23," Dinakaran told reporters today. 
This will be the first election which the AIADMK will face post Jayalalithaa's death and the bitter rift following a revolt by expelled leader and former Chief Minister O Panneerselvam. 
While AIADMK will seek to continue its electoral dominance, the April 12 by-election is seen as an indicator of the people's mindset in the wake of Jayalalithaa's demise and the rift in the ruling party. 
Dinakaran is a former MP and was expelled from the AIADMK in 2011 along with Sasikala's other relatives.
He was re-inducted into the party last month by Sasikala after he expressed regret for his alleged anti-party activities. 
Subsequently, he was appointed as the party's Deputy General Secretary making him the second-in command after Sasikala, who is now serving a jail term in Bengaluru, in connection with the Rs 66 crore disproportionate assets case. 
Sasikala, her husband M Natarajan and close relatives Dinakaran and Venkatesh were expelled from the AIADMK in 2011 by Jayalalithaa amidst reports then that they interfered in party and government administration. 
Meanwhile, AIADMK rebel Panneerselvam today met Chief Election Commissioner Nasim Zaidi and staked claim to the AIADMK's symbol ahead of the upcoming by-poll to R K Nagar constituency.
"R K Nagar bypoll has been announced and we have asked the ECI to allot the party symbol, twin leaves, to us citing various violations of party bylaws that the Sasikala faction has made," Panneerselvam told reporters after meeting the CEC. 
He said his faction will formally file a petition with the ECI on Friday. 
Panneerselvam also demanded that the poll panel order fresh election for AIADMK general secretary's post, which was currently occupied by V K Sasikala, alleging she was elevated to the position in violation of the norms.