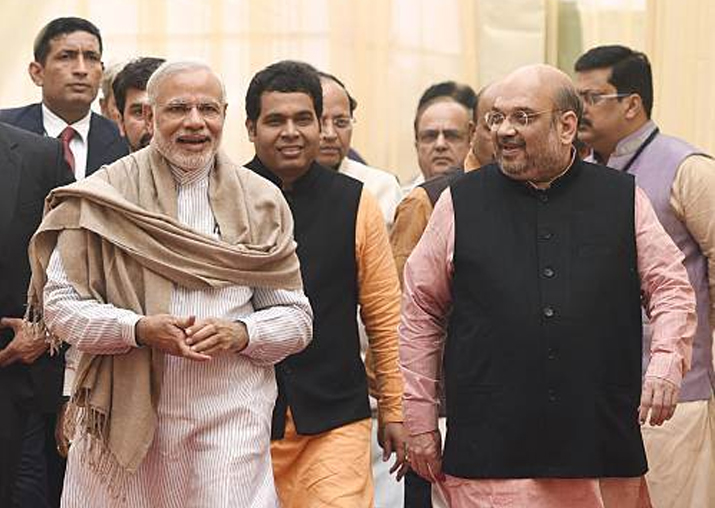 Prime Minister Narendra Modi will inaugurate the new BJP headquarters, a multi-storeyed modern construction fitted with latest communication technologies, on Sunday in the presence of top party leaders, including its president Amit Shah.
A host of Union ministers and former party presidents like LK Advani and Murli Manohar Joshi are likely to be present during the inauguration ceremony. 
The new party office is located at Deen Dayal Upadhyay Marg and will make the BJP the first major national party to shift its office outside Lutyens' Bungalow Zone, following a Supreme Court directive that party offices should be relocated from there.
The BJP's shift may put pressure on other parties to follow suit as almost all of them have been functioning for decades out of bungalows.
The saffron party has been working from Ashoka Road while the main opposition Congress office is at Akbar Road and the two premises are part of the pool of government residences.
The BJP plans to move to the new office from the current one as early as next week, official sources said.
Modi and Shah had laid the foundation stone of the new headquarters in August last year and a Mumbai-based architecture company had designed it.
Since taking over as its president in 2014, Shah has worked to have party-owned offices in all states and districts, a task in progress.
A quick look into BJP's new HQ 
The premises has three buildings fitted with modern communication tools, enabling party office-bearers to co-ordinate official works with their counterparts in states and local levels in real time.
The eco-friendly complex is WiFi-enabled and 70 rooms. All buildings have facilities like conference halls, research rooms, digital library and studios for live telecast.
Hollow bricks have been used and solar panels have been installed to provide power. Rain-water harvesting and bio-toilets are also key features of the BJP's new office.