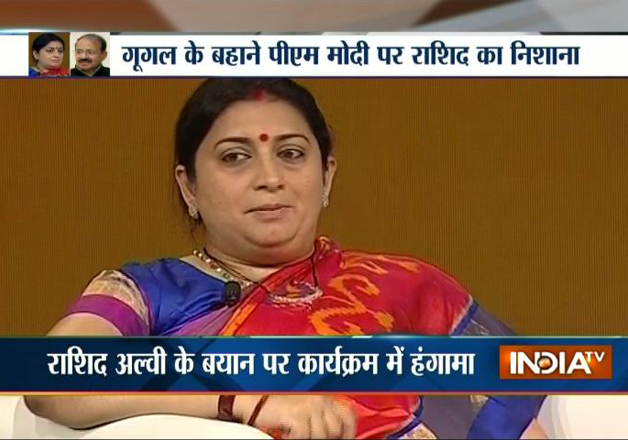 New Delhi: Senior Congress leader Rashid Alvi found himself at the centre of a controversy after he made controversial remarks on Prime Minister Narendra Modi during India TV conclave 'SAMVAAD' which was organised on Monday to assess the performance of two years of Modi government.  
Alvi's remarks evoked sharp reaction from the audience which asked him to take back his words and apologise.
It all started when Alvi asked HRD Minister Smriti Irani that what action was being initiated on Modi coming out as 'most stupid Prime Minister' in Google search.
Soon after this, the audience asked him to take his words back and apologise. Despite attempts by the organisers of programme to pacify the agitated audience, the crowd kept shouting 'shame shame' and 'shame on Congress' and 'Rahul Gandhi is stupid'.
Responding to the remarks, Irani said, "In Congress, those who throw stones and spits at Narendra Modi will be blue-eyed. The poison against Narendra Modi has crossed the limits that people forget that he is countrys Prime Minister."
"When Rashid bhai uses such words for the country's Prime Minister, what kind of words does he use for a woman minister by saying that it is heard that you are very close to Modiji. We have to live with this poison everyday and then you say why does Smriti Irani get angry," she said.
Lashing out at the Congress, she said, "There is a cabal who have festered this democracy for too long. They have lived off the scraps of the dynasty and they have done this irrespective of the damage they do to institutions. Because their whole survival was never dependent on their talent, but it was dependent on their proximity."
Irani said by the example put forth by Alvi, neither Modi nor his supporters would be hurt, but the Congress leader has only Alvi lowered his own image by doing so.
India TV had on Monday organised a conclave 'SAMVAAD' in New Delhi to assess the works done by the 2-year-old Narendra Modi government at the Centre.
Earlier, BJP leader and former JD(U) MP Sabir Ali said it reflected the mindset of Congress, who were unable to digest their defeat and that their regime and influence were gone. "I expect him to take back his words. I feel such language can be used only by people with such mindset who have a regret that their regime and influence have gone. Those who feel that being influential is their right can use such words," he said.
Lyricist and screenwriter Prasoon Joshi, who was also present on the occasion, said Google provided information the way it was put forth before the search engine. "It is like an algorithm. Google always follows the pattern of your search. It is not a gospel, it is a pattern. It is an algorithm and should be read like that," he said.