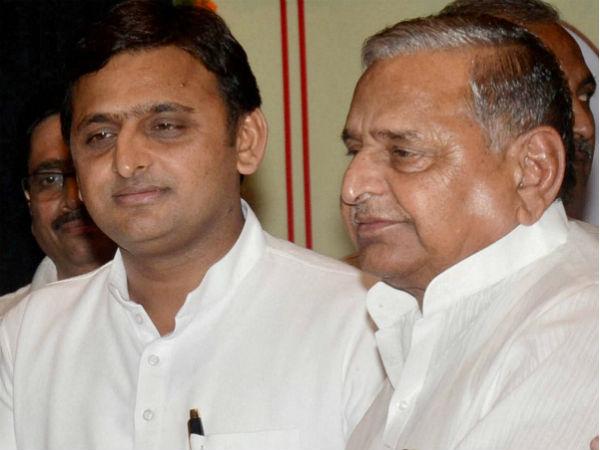 With Akhilesh Yadav unseating his father Mulayam Singh Yadav as the national president of Samajwadi Party, the Uttar Pradesh chief Minister has justified the recent turn of events saying the decision he had taken was tough but the one he had to take.
"Sometimes to protect the ones u love u must make right decision. What I did today was a tough decision but 1 tht I had to take," the 43-year-old CM tweeted late on Sunday, referring to his move to snatch party control.
Sometimes to protect the ones you love you must make the right decision. What I did today was a tough decision but one that I had to take. pic.twitter.com/M5xZYEZhii

— Akhilesh Yadav (@yadavakhilesh) January 1, 2017
Here are the 10 developments in the story
1) The two factions are set to lock horns over the election symbol of the party. According to reports, senior ministers of the Akhilesh Yadav camp will tell the Election Commission that the Chief Minister controls the Samajwadi Party and cite documents as proof.
2) The Yadav Senior is likely to meet Shivpal Yadav and Amar Singh in Delhi today and they are also likely to claim the party symbol. Mulayam Singh also announced a convention of his own on January 5.
3) The Election Commission is likely to freeze the 'bicycle' symbol as it doesn't have enough time to verify the claim of either of the two factions as to which one is real. 
4) At the "extraordinary national convention" called by Akhilesh's faction, Shivpal Yadav was sacked as the state unit head while Rajya Sabha member Amar Singh -- both Mulayam confidants -- was expelled from the party.
5) At the meeting at the Janeshwar Mishra Park, senior leader and Akhilesh's uncle Ram Gopal Yadav moved motions annointing the Chief Minister in place of Mulayam Singh, who was retained as the "Marg Darshak".
6) In his address -- punctuated with slogans of "Jai Akhilesh" from his supporters -- Akhilesh Yadav said, "The whole country should understand that I will respect Netaji (Mulayam Singh) more than ever...if people are conspiring against Netaji it is my duty to act against them."
7) A furious Mulayam Singh hit back, declaring Sunday's pro-Akhilesh meeting illegal and expelling party Vice President Kironmoy Nanda and Rajya Sabha member Naresh Agarwal. Nanda refused to accept the decision.
8) Mulayam Singh again expelled Ram Gopal from the party for six years. He was ousted on Friday but taken back as part of a compromise formula later.
9) In the afternoon, slogan-shouting supporters of Akhilesh Yadav and Shivpal Yadav almost came to blows while trying to take control of the party office in Lucknow. 
10) Earlier on Saturday, Akhilesh Yadav's show of strength forced Mulayam to take him back after expulsion.  Over 200 of the total 229 party legislators in the state attended a meeting called by chief Minister on Saturday.