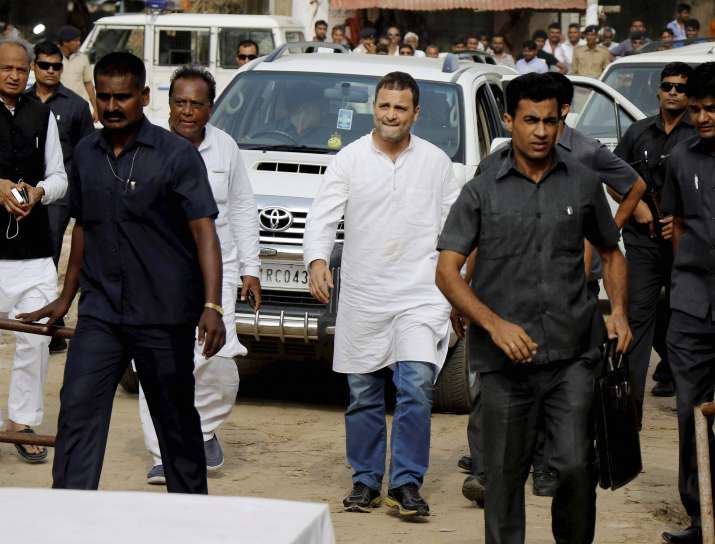 As opposition parties sought sacking of Haryana BJP chief Subhash Barala after his son was arrested for allegedly stalking a young woman in Chandigarh, Congress Vice President Rahul Gandhi today condemned the incident and urged the government to "punish the guilty."
"Condemn attempt to kidnap and outrage modesty of young lady in Chandigarh. BJP government must punish the guilty, not collude with culprits and mindset they represent," Rahul said in a tweet on his official Twitter handle. 
Vikas Barala, the 23-year-old son of Haryana BJP chief was arrested along with his friend Ashish Kumar for allegedly stalking a girl late on Friday night. The girl is a daughter of an IAS officer. 
Also Read: Chandigarh stalking case: Individual issue, can't punish Subhash Barala for son's crime, says Haryana CM 
The incident came to light when a girl called up the police on Friday night, complaining that two boys were chasing her. Both the accused were released later on bail as they were booked under bailable sections of the IPC and the Motor Vehicles Act.
Opposition parties are seeking sacking of Subhash Barala by the BJP.  The opposition Congress today held protests at various places against the incident. State Congress chief Ashok Tanwar led one such protest in Faridabad. 
"The arrogance of power in the BJP, the party which talks about saving and educating girl child, has reached to such a level that son of a state BJP chief dared to commit such crime," he said. 
Senior Congress leader and MLA from Haryana, Randeep Singh Surjewala also strongly condemned the incident. 
"Shocking & preposterous assault! Salute the brave girl and her parents. Your grit & determination makes us proud," Surjewala tweeted today. 
Chief Minister Manohar Lal Khattar has said that the law will take its own course in the case while Haryana BJP president Subhash Barala had said he respects the law and the "truth" will come out through the court. 
The father of the victim today took to social media and urged people to fight crime against women while also sharing the ordeal his family had gone through. The victim also expressed her anguish in a post saying she was lucky not to be the daughter of a commoner or else who knows what her fate could be.