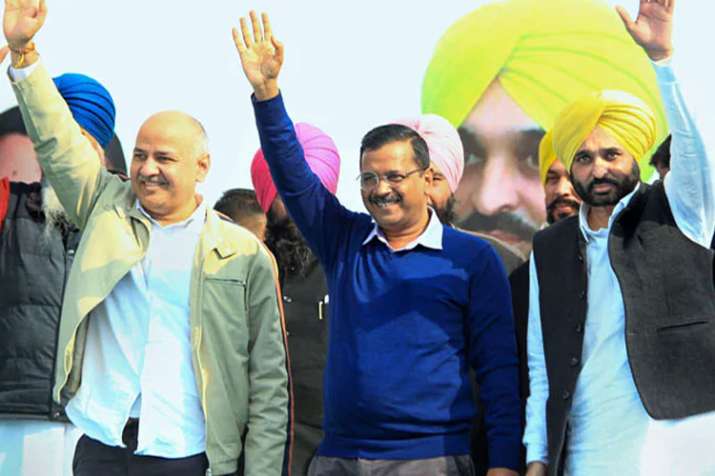 In a bizzare incident Aam Aadmi Party chief Arvind Kejriwal bestwoed high priases on his party's Member of Parliament Bhagwant Mann for pleading to quit alcohol. 
Terming the pledge as a supreme sacrifice for the public, Kejriwal said that his sacrifice was unparalled. "Friends, Bhagwant Mann has won my heart. Not only mine, he also won the hearts of whole Punjab. A leader should be like him who is ready to make any kind of sacrifice for the people. It is not a small thing to make such a big commitment. After January 1, he says he will not touch liquor. It is a very big thing," said Kejriwal.
The statement came after Mann, who is often criticised by political opponents for 'excessive drinking', told a public rally in Punjab's Barnala said he has left drinking from January 1 and that he hopes to shun liquor for the rest of his life.
"My political opponents often level accusations against me, saying 'Bhagwant Mann takes liquor and remains intoxicated day and night'. Brothers, it always pained me when I saw old videos of myself on social media where I was being defamed," Mann said, at the rally. 
"I admit I used to take liquor occasionally. But my political opponents maligned me. Today my mother is here. She had told me that people defamed me excessively on the television and then asked me to stop taking liquor. Now they cannot defame me," said Mann, who is set contest the Lok Sabha elections from Sangrur seat again.
Taking a dig at the sacrifice, former party leader Sukhpal Singh Khaira said that the gathering appeared to have been called only to declare that Mann had quit drinking.
"I was upset over the AAP rally as no serious discussion related to Punjab took place. The rally seemed to be 'Sharab Chhaddao' rally of Bhagwant Mann," Khaira told reporters today. "If any announcement was to be made on giving up liquor (by Mann), that's a personal decision and such an announcement is not made in presence of thousands of people. It should not be meant to seek votes," he said.
In 2016, the suspended AAP MP Harinder Singh Khalsa had complained against Mann to Lok Sabha Speaker Sumitra Mahajan, requesting her to change his seat in the Parliament as Mann, who sat next to him, was stinking of alcohol.
(With inputs from PTI)
Watch video: