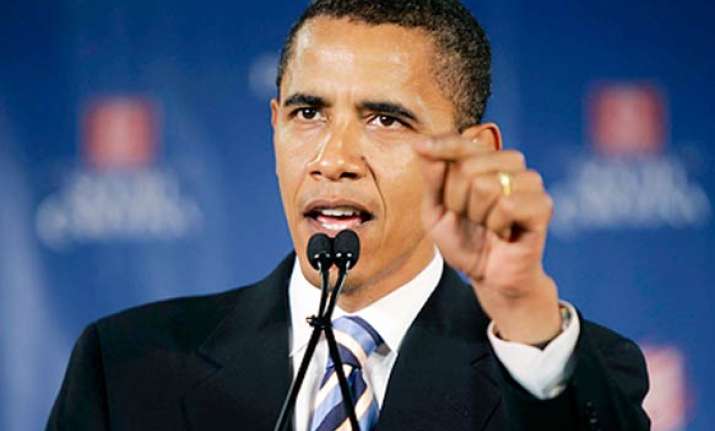 Washington, Feb 21: Strongly objecting to the use of lethal force against peaceful demonstrators, the United States in a strong condemnation on Libya's crackdown on protesters today said that it is considering all appropriate actions in response.
US President Barack Obama, was briefed by the National Security Advisor, Tom Donilon, last night on the developing situation in Libya and he is being kept up to speed on events today.
"We are considering all appropriate actions," a US official said without specifying the measures it is contemplating with regard to Libya.
"We are is analysing the speech of Saif al-Islam Qadhafi to see what possibilities it contains for meaningful reform," the official said referring to the speech given by the Libyan leader, adding that the US will seek clarification from senior Libyan officials in this regard.
"We continue to raise with them the need to avoid violence against peaceful protesters and respect universal rights," the official said.
Earlier the US Sunday expressed its grave concern over the current situation in Libya.
"The United States is gravely concerned with disturbing reports and images coming out of Libya," State Department spokesman, P J Crowley said.
While the US is working to ascertain the facts, but it has received multiple credible reports that hundreds of people have been killed and injured in several days of unrest - and the full extent of the death toll is unknown due to the lack of access of international media and human rights organizations, he said.
"We have raised to a number of Libyan officials, including Libyan Foreign Minister Musa Kusa, our strong objections to the use of lethal force against peaceful demonstrators," Crowley said.
We reiterated to Libyan officials the importance of universal rights, including freedom of speech and peaceful assembly.
Libyan officials have stated their commitment to protecting and safeguarding the right of peaceful protest," Crowley said.
The State Department spokesmen called upon the Libyan government uphold that commitment, and holds accountable any security officer who does not act in accordance with that commitment. PTI