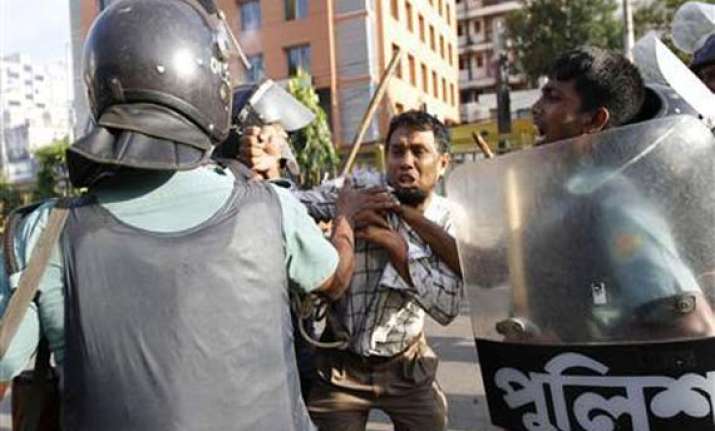 Dhaka, Dec 9: Police in fired rubber bullets and tear gas Sunday to disperse stone-throwing protesters who set fire to vehicles and tried to block roads across Bangladesh to demand restoration of caretaker administration to oversee upcoming national elections.
Police and witnesses said at least two people were killed and more than 200 injured in the violence in the capital and several other districts.
Local police chief Wahid Zaman said a protester was killed during clashes between opponents and supporters of the government in Sirajganj district, 104 km northwest of capital Dhaka.
In Dhaka, one protester was killed by a speeding bus as some demonstrators tried to stop it, a police official said speaking on condition of anonymity as he is not allowed to speak to the media.
At least 200 people, including some policemen, were injured in clashes between police and protesters across the country, according to reports by local television stations Ekattar TV and Somoy TV.
Television footage showed protesters attacking vehicles and police with rocks and sticks. Police responded with rubber bullets and tear gas.
More than 100 vehicles were smashed or set on fire, the reports said.
A coalition of 18 opposition parties had called for roads to be blocked across the country Sunday to highlight calls for the restoration of a constitutional provision allowing a nonpartisan caretaker administration to oversee the polls due in 2014.
Prime Minister Sheikh Hasina's government scrapped the 15-year-old provision last year after the supreme court ruled it unconstitutional, saying the constitution allows only popularly elected people to run the government.
The opposition, led by former Prime Minister Khaleda Zia, says the change will allow Hasina to rig the election. Hasina denies the allegation.
Police said they fired rubber bullets and tear gas to break up several hundred protesters in Dhaka's southern Jatrabari district. The demonstrators responded by throwing bricks.
Dhaka's Daily Star newspaper reported that dozens of homemade bombs small tin pots filled with explosives went off in capital's northern Gabtali district.
Using tear gas, police fought pitched battles with hundreds of protesters in Gabtali, the newspaper said.
Bangladesh has a history of police violence, with opposition frequently resorting to general strikes.