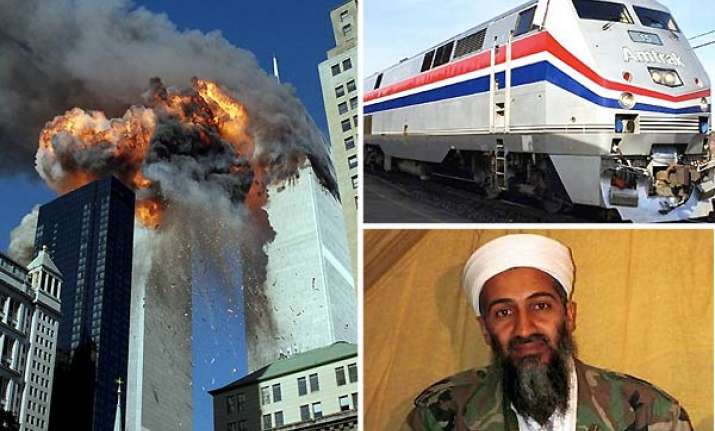 Washington, May 6: Computer files seized during the raid on Osama bin Laden's hideout show al-Qaeda was  planning a "spectacular" attack on trains in the US on September 11, 2011, the tenth anniversary of the 9/11 tragedy, reports ABC News.

The terrorist network is thought to have been planning to tamper with tracks so that a train would be derailed while crossing a bridge or valley, potentially killing hundreds of passengers.

The plan, developed in February last year, was disclosed by the US Department of Homeland Security (DHS), which issued a warning about it to law enforcement agencies around the US. "We wanted to make our partners aware of the alleged plotting," Matthew Chandler, a DHS spokesman, said on Thursday night. "It is unclear if any further planning has been conducted".

The plot is said to have been in the "aspirational", rather than "operational" stages. No specific locations had been selected. But it will intensify long-standing fears that this year's tenth anniversary of the September 11 attacks will attract new threats.

The DHS said since Sunday's raid it had sent more officers to protect American airports and reviewed "protective measures for all potential terrorist targets", including the entire US transport system. It is also considering "new targeting rules" to help them identify "the risk of both passengers and cargo coming to the United States," Mr Chandler said.

The plot emerged as sources said the CIA could read details of senior al-Qaeda leaders on the so-called "treasure trove" of computer files, because they were not encrypted.An early read of the materials seized from Osama bin Laden's compound has not yet produced evidence of a specific, imminent terror plot against the U.S., but does show the group continues to have murderous aspirations, according to U.S. officials and to documents obtained by ABC News.

The trove of evidence U.S. Navy SEALs recovered during their raid of Bin Laden's compound, which cost the al Qaeda leader his life, shows that al Qaeda remained fixated on so-called soft targets like transportation.

A new bulletin issued tonight by the FBI and the Department of Homeland Security and obtained by ABC News describes the terror organization's chilling desire to derail a train.

"As of February 2010, al-Qa'ida was allegedly contemplating conducting an operation against trains at an unspecified location in the United States on the 10th anniversary of September 11, 2001," the document reads, using an alternate spelling for bin Laden's terror group. "As one option, al-Qa'ida was looking into trying to tip a train by tampering with the rails so that the train would fall off the track at either a valley or a bridge."

"You can't guard hundreds of miles of track," said ABC News consultant and former White House counterterrorism advisor Richard Clarke. "And if they can get to one location that is not well guarded and put explosives on it or do something to cause the train to derail that's a lot easier than going after an aircraft."

In a statement, DHS press secretary Matt Chandler stressed that the message it sent out to its rail partners about a potential al Qaeda plot was "based on initial reporting, which is often misleading and inaccurate and subject to change. We remain at a heightened state of vigilance, but do not intend to issue [a National Terrorism Advisory System] alert at this time." Chandler said the Transportation Security Administration would also send a bulletin to its rail sector stakeholders.

"We have no information of any imminent terrorist threat to the U.S. rail sector, but wanted to make our partners aware of the alleged plotting," said Chandler.

Chandler said that since Sunday, DHS had taken "a number of actions," including adding additional officers at airports and reviewing protective measures for potential terror targets.

The information on a potential rail attack was among a variety of conerns being shared with Homeland Security and regional authorities, and it was not yet known what other soft targets might have considered.

According to Richard Clarke, the fact that such proposals were discovered in bin Laden's possession shows how integral he still appeared to be to terror plots.

The evidence appears to confirm that Bin Laden still had a role in approving al Qaeda plots, just he did for the 9/11 terror attack.

One U.S. official told ABC News the materials found at the bin Laden hideout included schematics and websites involving a variety of plots al Qaeda was considering. One official described the documents reviewed so far as "aspirational" but not indicative of final stage planning.