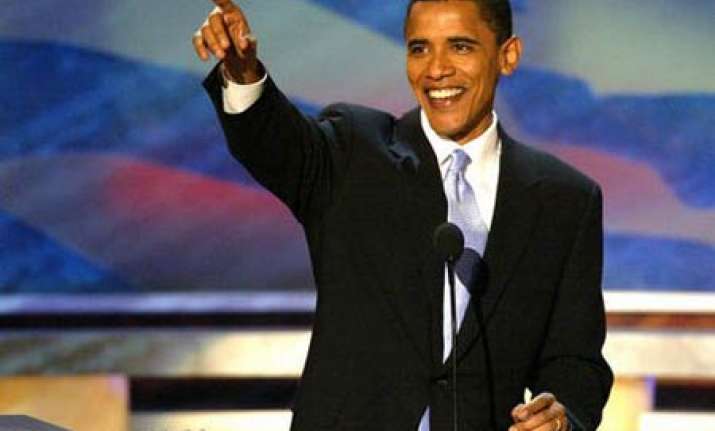 New Delhi, Nov 7 :  The keenly-awaited address of US President Barack Obama tomorrow to Indian Parliament is expected to last between 18 and 20 minutes.
Authorities are leaving no stone unturned to give a red carpet welcome to 49-year-old Obama, who will deliver his address at the historic Central Hall. Parliament sources say the visiting dignitary is expected to finish his address in less than 20 minutes.
Obama, who once said that "America has its roots in the India of Mahatma Gandhi", will be using a teleprompter for his address. The device will be in use for the first time in the Central Hall of Parliament, even though Obama is known for his oratory skills.
Teleprompters are textbook-sized panes of glass holding the prepared remarks of the speaker which rests on top of a tall, narrow pole in front of the podium during speeches.
The US President's programme in Parliament House complex will be an affair of less than an hour right from his arrival at 1725 hours. He will start his address at 1738 hours.
Obama will be received by Vice President Hamid Ansari, Prime Minister Manmohan Singh, Speaker Meira Kumar and Parliamentary Affairs Minister Pawan Kumar Bansal.
The programme will feature a welcome speech by Ansari and a vote of thanks by Kumar. The US President will also sign the Golden Book, the visitors' diary of Parliament.
Prime Minister Singh will be on the dais along with the presiding officers during Obama's address.
Parliament House has been given a makeover for the visit of the US president. Right from the circular facade of the eight-decade-old structure to paintings in the corridors and magnificent Central Hall, Parliament has been refurbished.
It was in the historic Central Hall that the British handed over power to India in 1947. It was also the platform for addresses by several leaders, including former US President Bill Clinton who visited India in 2000.
The function has been organised by the Indian Parliamentary Group headed by Speaker Kumar.Left parties will be staging demonstrations across the country tomorrow to protest against the visit and economic policies of the US. PTI