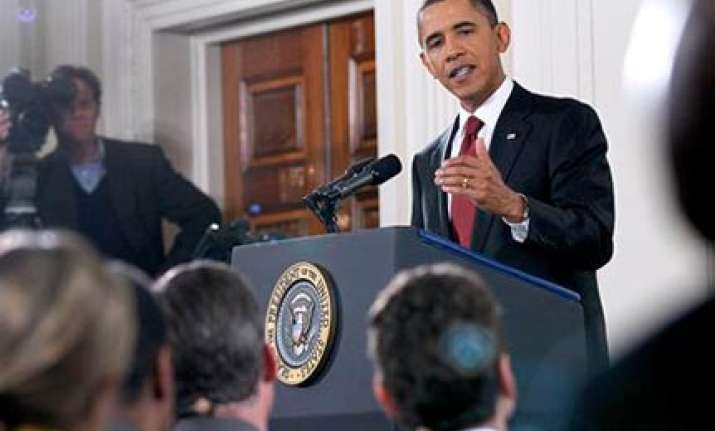 Washington, Nov 3 (PTI) Hours after his Democratic party was trounced by the Republicans in the mid-term elections, US President Barack Obama today took responsibility for the defeat and said that "it feels bad".
Addressing a crowded press conference on his party's first major defeat since he assumed office nearly two years ago, Obama acknowledged that the Americans feel frustrated as the unemployment rate continues to be high and economy has not moved as they would have expected despite best of his efforts.
"People are frustrated. They're deeply frustrated with the pace of our economic recovery and the opportunities that they hope for their children and their grandchildren. They want jobs to come back faster. They want paychecks to go further. And they want the ability to give their children the same chances and opportunities as they've had in life," Obama said.
The press conference was solely dominated by his party's defeat and there was no mention of the 10-day long Asia trip, which Obama is all set to undertake from Friday, taking him to India, Indonesia, S Korea and Japan.
"Over the last two years, we've made progress. But clearly too many Americans haven't felt that progress yet, and they told us that yesterday. And, as President, I take responsibility for that," Obama said.
In the same vein the US President said the ground political realities of the day now dictates that both the Republicans and the Democrats need to work together for resolving all the pressing issues of the Americans.
"What yesterday also told us is that no one party will be able to dictate where we go from here; that we must find common ground in order to make progress on some uncommonly difficult challenges," Obama said, adding that in a telephonic conversation with the Republican leaders he told them he is very eager to sit with members of both parties and figure out how to move forward together.
Someone who has unsuccessfully tried to adopt a bipartisan approach to key policies since the very beginning of his administration, Obama acknowledged that this would be difficult.
"I'm not suggesting this will be easy. I won't pretend that we'll be able to bridge every difference or solve every disagreement," he said.
"But what I think the American people are expecting and what we owe them is to focus on those issues that affect their jobs, their security and their future, reducing our deficit, promoting a clean energy economy, making sure that our children are the best educated in the world, making sure that we're making the investments in technology that allow us to keep our competitive edge in the global economy," he said.