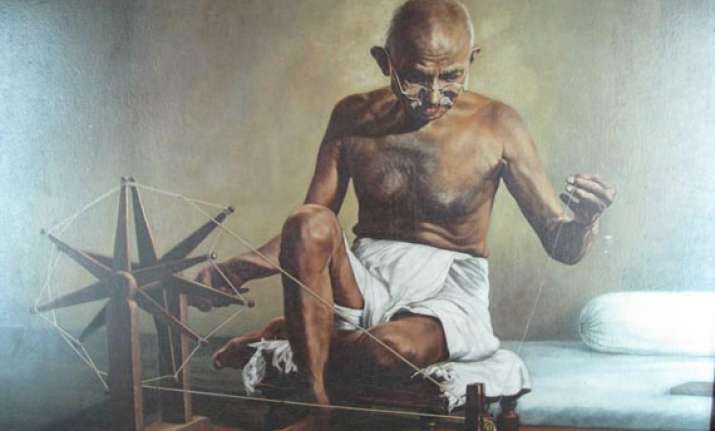 New Delhi: Mahatma Gandhi's personal effects and documents, including his prayer beads, blood sample, leather chappals and the iconic leader's last will and testament, went under the hammer today fetching a whopping 300,000 pounds.
The last will and testament of Mahatma Gandhi proved to be the highlight of the auction of rare documents and items associated with the Father of the Nation in a small English town today.
The "highly important" handwritten will on folio paper beat its estimate of 40,000 pounds to fetch 55,000 pounds, adding to an overall total of over 300,000 pounds.
However, another keenly watched lot containing a fragment of Gandhi's blood on a microscopic slide could not match up to the guide price of 10,000 pounds and sold for just 7,000 pounds.
"While the blood sample may be sacred for some, the will is an extremely important historical document. It is hand-written in Gujarati and signed by Gandhi," Richard Westwood-Brookes, historical documents expert for Mullock's auctioneers, told PTIfrom the auction site at Ludlow Racecourse in Shropshire.
The slides of Gandhi's blood date back to 1924 when he was in convalescence from an appendectomy near Mumbai. He is believed to have donated the blood to the family he was staying with at the time.
"It is an important and rare artefact but we also have Gandhi's shawl and sandals, which have attracted tremendous interest," Westwood-Brookes added in reference to other key items that went under the hammer today.
The hand-woven linen shawl, made from material hand-spun by Gandhi himself, sold for 40,000 pounds – nearly double the estimated price.
His heavily worn-out leather chappals also beat estimates to grab 19,000 pounds, while his wooden prayer beads fetched 9,500 pounds.
Another key signed document, Gandhi's power of attorney to his son dating back to November 1920 and complete with various stamps of the Bank of Baroda and Bank of India, attracted some intense bidding on the phone to fetch 25,000 pounds.
However, the surprise lot of the day was a rare photographic print signed by Gandhi, showing him with his hand folded in prayer, which went under the hammer for 40,000 pounds– four times the estimate of 10,000 pounds.
Among some of the other rare lots up for sale, Gandhi's personal copy of the Ramayana sold for 3,500 pounds, a metal bowl and flask used by him went for a total of 16,400 pounds and an iconic torn linen 'topi' (cap) fetched 8,400 pounds.
Mullock's has become associated with Gandhi memorabilia since it set a world record in February with a letter written by Gandhi while in detention in 1943, which beat its estimate of 10,000 pounds to fetch 115,000 pounds.
The auctioneers have also sold soil samples and blades of bloody grass believed to be from the spot where the father of the nation was assassinated in 1948, for 10,000 pounds last year.
Today's sale included a vast range of historical documents and items, including those associated with Adolf Hitler, Winston Churchill and Florence Nightingale.
It also brought a variety of Mughal Indian miniatures and some rare original photographs of Maharaja Duleep Singh and other Indian rulers to the auction circuit.