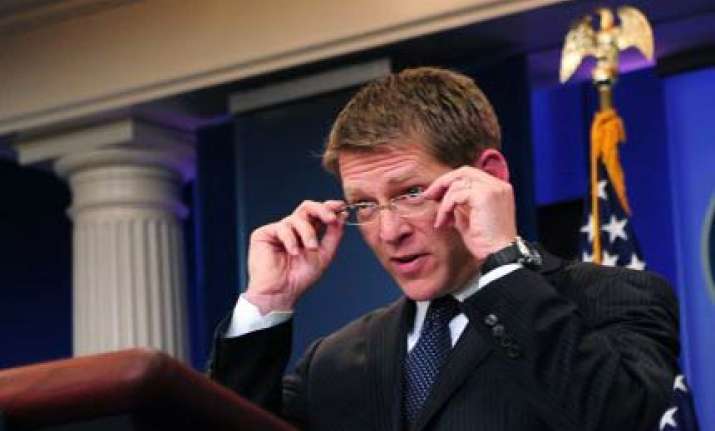 Washington, Feb 26 : Libyan leader Muammar Gaddafi has lost the confidence of his people and faces zero credibility among them, the White House has said as it
toughened its stand against the authoritarian regime.
"It's clear that Colonel Gaddafi has lost the confidence of his people. He is overseeing the brutal treatment of his people: the fatal violence against his own people. His legitimacy has been reduced to zero in the eyes of his people," White House Press Secretary, Jay Carney told reporters at his daily news conference.
Carney, however, said the US always maintained that it is a matter for the Libyans to decide on their leadership."I think it is also clear that the people of Libya have expressed that his (Gaddafi) continued use of deadly violence, his clear violations of human rights are totally unacceptable anywhere in the world," he said.
"The status quo is simply neither tenable nor acceptable. The Libyan people deserve a government now that protects the safety of its citizens, is responsive to their
aspirations, and is broadly representative."Washington's decisions are not based on personalities,he said."It is about the peaceful expression of the dissatisfaction of the people of Libya with their leadership.
We support them in their aspirations, but we are acting unilaterally and multilaterally in a way that we believe needs to be done to put pressure on the regime to cease this horrendous activity," he said.
"The best case scenario for any state in the region or the world is a government that treats its people well, that is responsive to the aspirations of its people, that includes its people in the political process in a democratic way.And that is a peaceful, responsible neighbour in its region of the world and in the international community," Carney said.
The White House spokesman said the situation out there in the African country is still fluid."Obviously, the situation in Libya remains dangerous and unresolved, as does the situation in the whole region remains unresolved in different ways.
"But, all I would say is I would encourage everyone to remember, as these events unfold and we deal with them, that the goals we have are peaceful reactions to peaceful demonstrations," he said.
Respect for universal human rights in countries where demonstrations were taking place and responsiveness from the governments would lead to greater stability and prosperity,the spokesman added. PTI