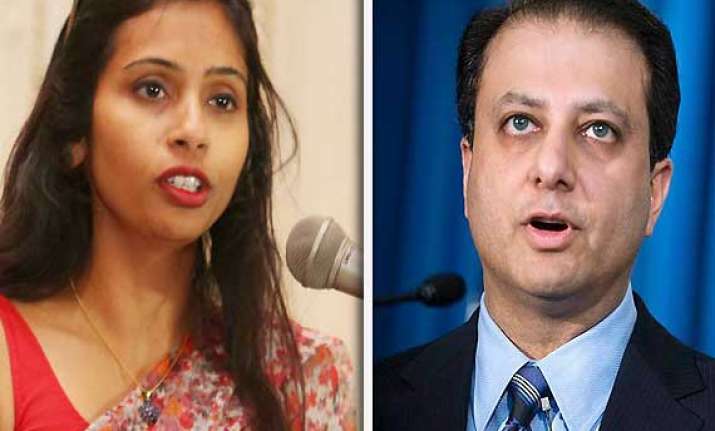 New York: Indian diplomat Devyani Khobragade does not enjoy immunity from criminal prosecution on charges of visa fraud and making false statements, the U.S. State Department has said in papers submitted before a court in New York.
The declaration, dated January 29, and signed by Attorney-Advisor in the Office of the Legal Advisor of the Department of State Stephen Kerr, was submitted in court on Friday by Manhattan's federal prosecutor India-born Preet Bharara in support of his memorandum opposing 39-year-old Khobragade's motion to dismiss the indictment against her.
It concludes that federal authorities were not wrong in arresting and detaining Khobragade on visa fraud charges on December 12, 2013, since she did not have full diplomatic immunity in her capacity as India's Deputy Consul General.
"The Department of State concludes that Dr. Khobragade did not enjoy immunity from arrest or detention at the time of her arrest in this case, and she does not presently enjoy immunity from prosecution for the crimes charged in the indictment," the State Department declaration said.
The declaration is part of eight supporting documents that Bharara has submitted in court as proof that Khobragade is not immune from prosecution and that the indictment against her should not be dismissed.
Bharara's motion is in response to a request made by Khobragade's lawyer Daniel Arshack on January 14, that asked the court to dismiss the indictment and terminate any "open" arrest warrants or requests for her extradition.
Arshack argued that Khobragade was "cloaked" in diplomatic immunity and cannot face prosecution in the U.S.