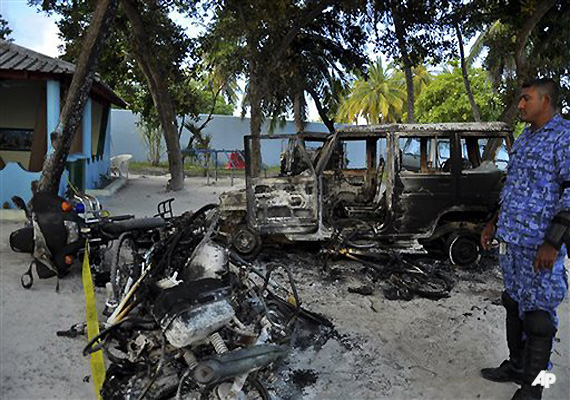 New Delhi, Feb 10: As the crisis in Maldives deepened, India today sent its special envoy to Male to assess the situation in the island where former President Mohamed Nasheed has been insisting that he was ousted in a coup.  

M Ganapathi, secretary (west) in the external affairs ministry left for Male with a brief to assess the situation in the Indian Ocean atoll which has plunged into a crisis after the ouster of Nasheed.

"I have sent an envoy to Maldives to assess the situation," Prime Minister Manmohan Singh told reporters at the India-EU summit here.

Singh said that it was his sincere hope that the matter can be resolved through peaceful dialogue.

"It will be our effort to use our influence in that direction," the Prime Minister said.

A Maldivian court has issued a warrant for the arrest of Nasheed, a day after his his supporters went on a rampage in the capital Male.

United Nations special envoy Oscar Fernandez-Taranco is also in Male and has urged for calm.

A Maldives court issued an arrest warrant today for former President Mohamed Nasheed, a day after his supporters rampaged in the capital and his claim of being ousted by a coup left unclear the stability of the fledging Indian Ocean democracy.

Police spokesman Abdul Mannan Yusuf refused to disclose the grounds for the criminal court's warrant, or say when Nasheed -- who is living at his Male home, surrounded by supporters -- would be arrested.

Later, Police Commissioner Abdullah Riaz said it was not clear if the warrant was Constitutional. He declined to provide details, but said the warrant's legality was still being examined.

Nasheed had announced he was voluntarily resigning Tuesday after months of protests against his rule and fading support from the police and the army. But the next day, as former Vice President Mohammed Waheed Hassan was forming a new government, Nasheed suddenly announced he had actually been pushed from power at gunpoint.

Thousands of his supporters swept into the streets. They clashed with security forces in Male, the capital, and attacked police stations in remote parts of this 1,200-island archipelago nation off southern India. The new government insists there was no coup.

The dispute threatens the crucial tourism industry of this mostly Muslim nation of 300,000 people, which relies on dozens of high-end resorts that cater to the rich and famous.

The developments also raise questions about the future of a democracy that only shed a 30-year, one-man rule with the 2008 multiparty elections that brought Nasheed to power.