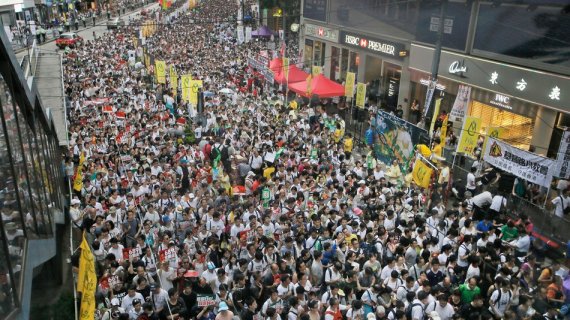 Hong Kong: Suspicion that tear gas imported from Britain was used to suppress pro-democracy protesters in Hong Kong has unveiled the widespread sale of weapons for "internal repression" by the country that ruled the city until 1997, the South China Morning Post reported Tuesday.
John Stanley, chairman of the British Committee on Arms Export Controls, revealed that Britain had sold grenade launchers, long-distance rifles, mortar shells, machine guns and gun silencers to Hong Kong since 2012, the Hong Kong-based daily said.
Since 2008, licences worth HK$17.4 billion ($2.2 billion) for the sale of arms to Hong Kong have been approved, according to official British records, prompting the committee to demand an explanation from Vince Cable, British secretary of state for business, innovation and skills.
The export of weapons is striking not only due to the historic link between Britain and its former colony but also to the fact that the city's defence is now the responsibility of the People's Liberation Army since its handover to China.
According to the South China Morning Post, the use of tear gas against pro-democracy protesters in Hong Kong Sep 28 could lead to a review of the sale of these materials by London and exports could be banned.
The gas used that day could belong to the shipment of 14,000 units acquired by the Hong Kong police from the British firm Chemring Group for HK$13.8 million.
Regina Ip, Hong Kong's security minister from 1998 to 2003, has defended the purchase as vital for the security forces, especially because the city was asked to boost security in diplomatic areas after the terrorist attacks on the US in 2001.