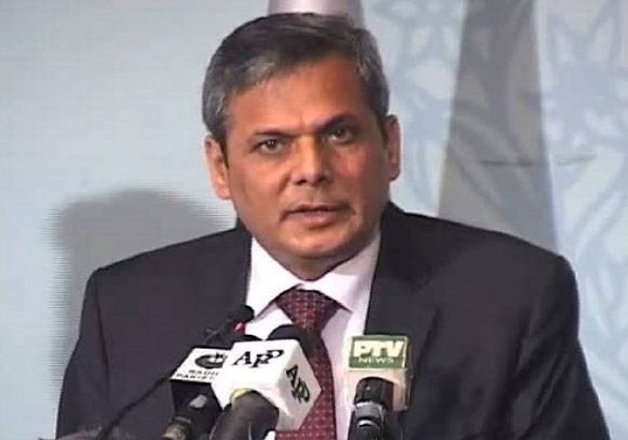 In the backdrop of growing strain in relationship with India, Pakistan's Foreign Minister has said that Islamabad 'remains open to result-oriented' and 'sustainable' dialogue with New Delhi. 
Addressing media here on Thursday evening, Foreign Office spokesman Nafees Zakaria blamed India for the current crisis in bilateral relations and for not responding to Islamabad's repeated overtures for talks. 
"This present crisis is India's doing. Pakistan has always pursued a policy of maximum restraint and patience and made many gestures towards peaceful relations with India, but India remains intransigent and arrogant," the spokesperson said. 
"Our repeated offers of talks remain un-responded. We remain open to a result-oriented and sustainable dialogue," the spokesperson added.
Islamabad's statement comes amid repeated ceasefire violations by Pakistan at the LoC and rising tension between Islamabad and New Delhi after Pakistan formally named eight officials of Indian High Commission here for involvement in subversive activities. 
Talking about the eight Indian officials identified for activities against Pakistan, Zakaria said that it was a serious issue and confirmed Pakistan's stance regarding the involvement of Indian state agencies in subversive activities for the purpose of destabilising the country. 
"This is a grievous development that goes against the accepted norms of conducting diplomatic relations. This serious and most deplorable development is under constant review by the relevant authorities, who will determine the next course of action," he said. 
He also condemned the alleged ceasefire violations by Indian forces on the LoC and the Working Boundary. 
Raising the Kashmir issue, the spokesman said, "Regrettably, India remains in constant violation of UNSC Resolutions and UN Charter. It extends no cooperation to UNMOGIP. International Community must take note and hold India accountable for its crimes in Kashmir." 
Meanwhile, Pakistan today briefed ambassadors of Organisation of Islamic Conference (OIC) countries about the situation in Kashmir, appealing them to condemn alleged human rights violations in the Valley and play an effective role to resolve the issue. 
Special Assistant to the Prime Minister (SAPM), Syed Tariq Fatemi, briefed OIC Ambassadors about the latest situation in Kashmir on Thursday. 
The Foreign Office, in a statement, said that Fatemi briefed them about the alleged human rights violations being committed by the Indian forces in the Valley. 
He urged the OIC countries to condemn the 'brutalities' in Kashmir and play an effective role to resolve the issue. 
He also referred to Palestine and Jammu and Kashmir as the 'oldest unresolved disputes' on the agenda of the UN Security Council. 
He called for vigorous efforts for the resolution of both these disputes, in accordance with the UN Security Council resolutions.